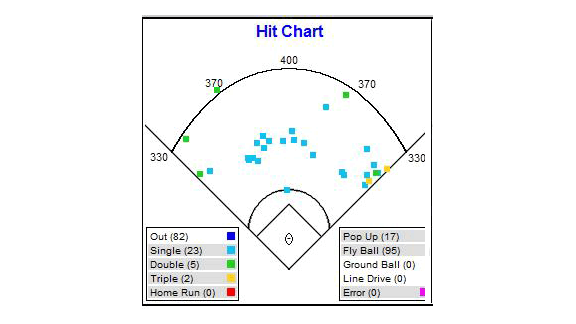 Locations for the 30 base hits that Jonathon Niese allowed on softly hit fly balls in 2011.
(Thirty ranked tied for second in MLB.)Continuing our statistical look at some of the key players for the 2012 Mets, we focus today on Mets lefty Jonathon Niese.
What's next for Jonathon Niese?
The lefty, who missed the final five weeks of the season due to a strained oblique, represents a glimmer of hope for Mets fans. At age 25, he is perceived to be just coming into his own.
Statistically, there's a reason to be optimistic about Niese for 2012.
Though Niese finished 2011 with a 4.40 ERA, there are reasons to think he pitched better than someone with an ERA that high.
Jonathon Niese
Positives from 2011
There are tools that sabermetricians use as ERA predictors. These have funky names such as FIP, xFIP, SIERA and True ERA.
What these formulas measure are the different factors related to Niese's performance, such as his strikeout and walk totals, his flyballs or home runs allowed, and his ground-ball rate, and come up with what Niese's ERA should have been, based on historical precedent.
The thinking is that if a pitcher's ERA was higher than his predicted ERA, that his performance was impacted by other factors, such as his defense, pitching in a hitter-friendly environment or bad luck.
Thus, if those factors can be better controlled the following season, and the pitcher continues to pitch at the same skill level or better, his performance should improve.
Studies show that the predictive ERA tools are very good at determining success the following season. Their biggest hits last season were Rays ace James Shields and Red Sox starter Josh Beckett, both of whom improved greatly upon their 2010 numbers in 2011.
This year, the ERA predictors have their eyes on Niese, whose strikeout-to-walk rate and groundball/fly-ball rates were pretty good.
The estimates on what Niese's ERA should have been last season range from 3.28 (xFIP) to 3.77 (True ERA). That's a substantially different ERA than a 4.40.
What caused Niese's ERA to be so high last season?
We have a few tools that allow us to look at Niese's performance. One is some video-review data that rates every ball hit against a pitcher as "softly/normally hit" or "hard hit."
Something jumped out at us when we looked at that, along with some hit-location charts for all the fly balls and pop ups Niese allowed.
Highest BABIP
2011 Season (Minimum 100 IP)
The average pitcher allows hits on about 10 to 12 percent of soft/normally hit fly balls and pop ups.
Niese's rate last year? A whopping 27 percent.
That led to his batting average on balls in play (BABIP) being among the highest in the majors -- .333.
In baseball-measurable numbers, that's the difference between allowing 30 hits on such balls (as Niese did) and allowing 11 hits (what the data suggests the average pitcher allows).
At the top of this story is an image that shows the location of those 30 hits. There are two clusters -- one in shallow center field and one along the right-field line.
The optimist will tell you some of those balls will be caught this season by new center fielder Andres Torres and some of those balls that straddled fair/foul status will bounce Niese's way.
The pessimist will tell you Niese has a history of giving up more hits than the average pitcher, even dating to his minor league days, and that those issues will be replaced by new ones in 2012.
Mets fans, which will it be? Will Niese rise to the level of statistical expectation or continue to perform as an average pitcher with the occasional glimmer of hope?
You tell us. Share your thoughts in the comments section.