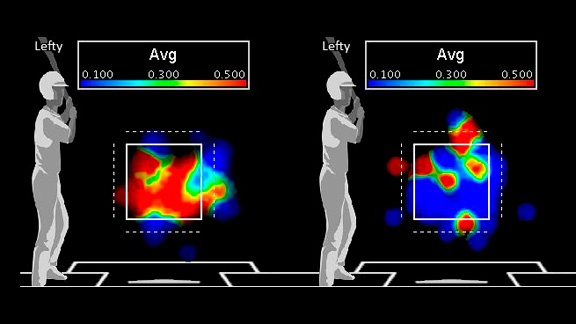 Left: How Frank Francisco fared against lefties through July 20.
Right: How Francisco fared through the rest of the season.
Click here to create your own Francisco heat mapsContinuing our statistical look at some of the key players for the 2012 Mets, we focus today on new closer, Frank Francisco.
What's next for Frank Francisco?
The Mets hope their newest closer, signed to a two-year, $12 million deal in the offseason, will have meaningful games to close and that he will do so in a manner similar to how he fared in the latter part of 2011 with the Blue Jays.
Frank Francisco
2011 Season
Francisco got shelled early in the season, one that started late due to injuries, but closed the year strong, with a 1.17 ERA and .218 opponents on-base percentage in his last 22 outings.
Statistically, the difference for Francisco almost entirely was in how he fared against left-handed hitters over the final two months.
Lefties hit the ball all over the place against Francisco throughout the first half of 2011.
In the second half, Francisco mixed up his pitch location a bit more. He threw up and away to lefties more frequently, rather than middle-away -- an area that had been a bugaboo for him early in the season.
He also threw his splitter a little bit more often, and that pitch became more of an out pitch than it was earlier in the season.
Frank Francisco vs LHB
2011 Season
The results were such that two primary issues were greatly reduced -- his line-drive propensity and his walk rate.
In turn, he was able to finish the year in a positive fashion from a statistical perspective. That netted him this deal from the Mets.
So what's next for Frank Francisco?
Can he replicate his late-season success for a full year? Will he have any games to close?
You tell us. Share your thoughts below in the comments section.