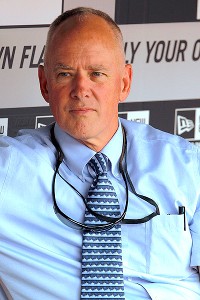 Lynne Sladky/Associated Press
Sandy Alderson is on Twitter, and poking fun of the Mets' finances.
Sandy Alderson is now on Twitter at @MetsGM, according to the Mets' official Twitter account.
Alderson's first tweet pokes fun at the Mets' finances. He wrote: "Getting ready for Spring Training-Driving to FL but haven't left yet. Big fundraiser tonight for gas money. Also exploring PAC contribution."
Tweet No. 2: "We're driving to St. Lucie because our dog (Buddy) doesn't like to fly. His complaint: Where I sit, no lights and no stews."