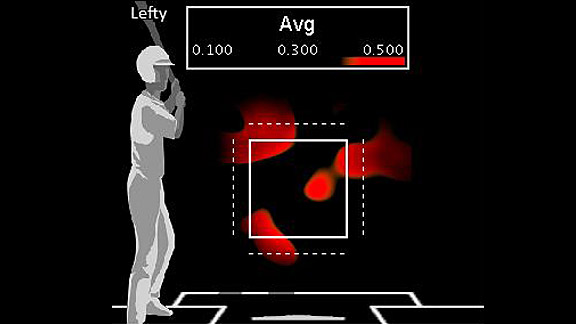 Daniel Murphy's hot zones in 2011 included areas outside the strike zone.
Click here to create your own Murphy heat mapsContinuing our series looking ahead to notable Mets for 2012
What's next for Daniel Murphy?
Daniel Murphy
vs Out of Strike Zone Pitches
Before his season-ending injury, Murphy had a 109-game run in which he was basically the Mets second-best offensive player behind Jose Reyes.
Murphy hit .320 with an .809 OPS and key to that was what he was able to do against pitches out of the strike zone.
Murphy had 32 hits against pitches out of the strike zone last season. He was the master of getting a hit against what we'll call the eye-high pitch.
Murphy became adept at hitting line drives against that pitch, rather than ground balls. And when he swung, he rarely missed.
The average major leaguer misses about once every four swings at an eye-high pitch. In 2011, Murphy took 101 swings and missed on only 10 of them.
Had Murphy played the entire season, he'd likely have led the major leagues in hits on those pitches, ones that missed above the strike zone, according to our pitch-performance data.
Instead, he finished with 18, tied for sixth-most in the majors, and tied with then-Rays first baseman Casey Kotchman for the most by a left-handed hitter.
How valuable was that specific "skill" to Murphy's success?
Those 18 hits might not sound like a lot, but had Murphy hit against those pitches like an average major leaguer (which was how he fared in 2009), he'd have had seven hits instead of 18.
The 11 extra hits were worth nearly 30 points to his 2011 batting average.
What's Next Articles
There are some hitters who are good at guiding the ball when it's out of the strike zone, who can maintain that success over an extended time period. Ichiro Suzuki in his prime and Rangers infielder Michael Young (like Murphy, not necessarily viewed as adept with the glove) are two examples.
The optimistic Mets fan might think that Murphy can be that sort of hitter, since at age 27 (which he'll turn on April 1), he's just entering the prime of his career.
The pessimist will tell you that Murphy couldn't do this sort of thing in 2009 (he hit .197 against eye-high pitches that season) and that his 2011 performance was a fluke.
Can Murphy stay healthy, sustain this sort of success and become the sort of hitter that the Mets can count on over the long term?
You tell us. Share your thoughts in the comments section.