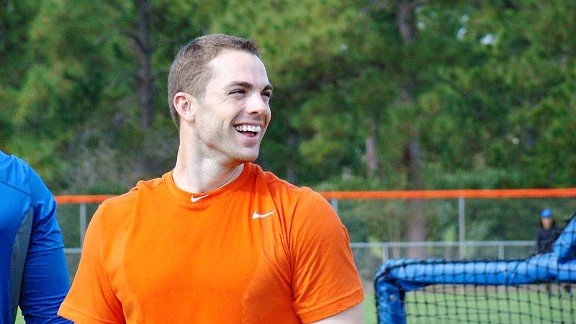 Adam Rubin
David Wright smiles before taking batting practice on a back field in Port St. Lucie on Wednesday.
David Wright discussed his future exclusively with ESPNNewYork.com on Wednesday in Port St. Lucie. Read the article with his comments here.
Wright, meanwhile, said the fracture in his back that sidelined him last season is a non-issue. He did not even need another MRI or X-ray after resuming playing last season.
Asked what he's going to do to stay healthy, Wright quipped: "I'm going to try not to run into Ike [Davis]. I'm going to try not to wrestle Carlos Lee at third base. The biggest thing for me is just getting up to game speed. ... I saw our new assistant trainer once this offseason, Brian Chicklo. And that had nothing to do with [the back]. He just wanted to see me work out and stuff. John Zajac, our physical therapist, I trust him with everything. He checked in about once a week to see how I was feeling and go over my routine. He was with me when I saw all the back specialists. Whether it was the California trip or the guy I was seeing in New York, he was in touch with them on a daily and weekly basis just making sure I was going through my routine and doing what I was supposed to do.
"The back feels real good. I think it was important that I went through a whole offseason kind of strengthening. You're talking about halfway, three quarters of the way through the season, your body is kind of beat up. It's tough to build up a certain area. So this offseason allowed me to build up those kind of muscles around the bone that was fractured. I feel strong."
As for the new ballpark dimensions, Wright said it should make him more comfortable hitting pitches where they're pitched, as opposed to trying to pull outside pitches to avoid death valley in right-center.
"Obviously it's exciting that it looks like you'll be rewarded for balls you hit good," Wright said. "And I think that's the important thing, especially to the psyche of a hitter when your talking about being rewarded for having good at-bats and hitting the ball hard. From the looks of it, I've glanced over it once or twice this offseason, but from the looks of it, it looks like it's going to play somewhat fairer."