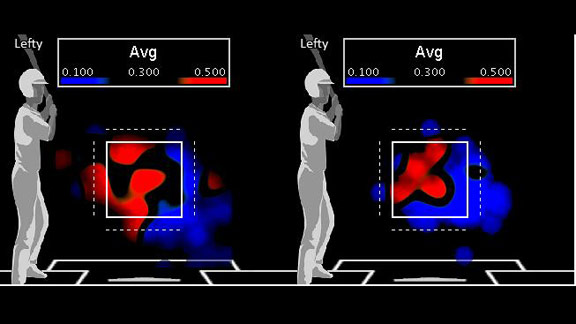 Left: Ike Davis' hot/cold zones vs lefties in 2010.
Right: Davis' hot/cold zones in 2011
Click here to create your own Davis heat mapsWhat's next for Ike Davis?
Davis' first two seasons with the Mets showed a lot of potential, with 2011 cut short by a freak injury that sidelined him for three-quarters of the season.
Davis says he feels good, and for now we'll take his word for it.
Ike Davis vs LHP
Davis looked like an All-Star for the first 36 games of 2011, bashing right-handed pitching like few other hitters in the majors. He hit .372 with seven home runs against them in 99 plate appearances.
But, over that small sample, Davis did have one issue that could cause him trouble in 2012- his performance against left-handed pitching.
Davis looked really good against lefties his rookie year, hitting .295 with 12 extra-base hits in 122 at-bats.
In 2011, it looked like some lefties had figured him out. Davis was just 7-for-43.
That's not necessarily predictive of future performance, but there was something noteworthy about the way he was pitched.
Ike Davis vs LHP
Pitches Faced
Davis showed some vulnerability in his debut season when a lefty worked him away, with about half of his outs coming on pitches on the outer-edge or further outside. In 2011, two-thirds of his outs came on those pitches.
You can see that the outside part of the plate was a "cold zone" for Davis in the heat maps above.
Davis stopped swinging at those pitches when a lefty got him in a two-strike count. He took strike three on (or just off) the outside corner fives times against lefties in 2010. That rose to 11 in 2011 (in about one-third as many chances).
The NL East added two quality left-handers in Mark Buehrle (Marlins) and Gio Gonzalez (Nationals), the latter of whom will pair up with John Lannan. The Phillies duo of Cole Hamels and Cliff Lee both return as well.
So it won't be an easy task for Davis to find the approach that works best for him.
Will he be able to do so and perform at superstar level in 2012?
You tell us. Share your thoughts in the comments section.