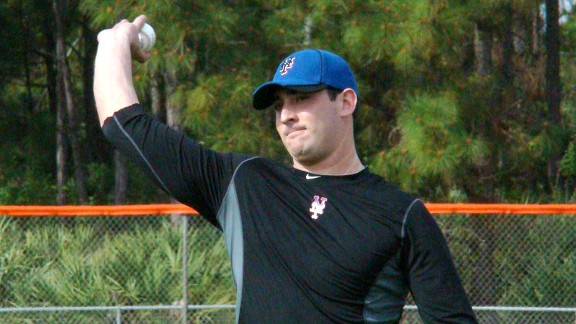 Adam Rubin
2010 first-round pick Matt Harvey plays catch Thursday in Port St. Lucie, the day he arrived in camp.
After a promotion from Class A St. Lucie to Double-A Binghamton last June, right-hander Matt Harvey quickly noticed that getting ahead in the count was of premium importance at the higher level. He also noticed the straight, four-seam fastball he threw up in the zone for years was getting hit harder than at lower levels.
So the Mets' 2010 first-round pick (seventh overall) worked during the offseason on developing a two-seam fastball that goes down and in toward right-handed batters. He hopes the addition will move him one notch closer to reaching the majors.
His current ETA may be this September.
"I think in high school and in college I got away with it a little bit, using that top half of the zone. And then once you get to Double-A you really have to establish lower-half," Harvey said Thursday, upon arriving at Mets camp four days ahead of the official report date for pitchers and catchers. "And obviously from what they're telling me, everything above Double-A you really have to do so. I figured it would be a good offseason to work on it."
Said pitching coach Dan Warthen: "That's a good recognition. We have the numbers that back it up that they did center his four-seamer, because he does pitch up in the zone. And he doesn't know how to pitch up, up in the zone. There's an up in the zone that's dangerous, and there's an up in the zone that's good. A letter-high fastball doesn't get hit, but that one that's a little bit below the belt, that's the one that gets hit very hard."
Harvey opened his first full professional season going 8-2 with a 2.37 ERA and 92 strikeouts in 76 innings in the Florida State League -- with eight of the 20 earned runs he allowed coming in one miserable start. With the B-Mets, the numbers were more pedestrian: 5-3 with a 4.53 ERA in 12 starts.
"I hadn't seen him, and I thought he was really good -- for a younger guy, extremely advanced," said Mike Nickeas, who caught Harvey a handful of times in Atlanta this offseason. "Great sink. His two-seamer was fantastic. His depth on it, and the weight of it was what impressed me the most. And also, if you get to know him a little bit, his personality, he seems very mature. He's got his head on straight. So I was impressed by him."
Harvey is part of a quartet of hyped right-handed pitchers on the way for the Mets, which also includes Zack Wheeler (who was acquired from the San Francisco Giants for Carlos Beltran), Jeurys Familia and Jenrry Mejia. Harvey and Wheeler have yet to meet, even though both were in Atlanta this offseason.
Harvey, who played college ball at North Carolina, split the offseason between Chapel Hill and Georgia -- except for a few visits home to his native Connecticut and to see his beloved New England Patriots play playoff games against the Denver Broncos and Baltimore Ravens.
"It's always exciting to have your name called out and be up there with those guys," Harvey said about being linked to Wheeler, Familia and Mejia. "It's fun. It's going to be an exciting spring training."
Warthen said Harvey actually threw a two-seam fastball with the Tar Heels, so the pitch is not an entirely new creation.
As for reaching the majors, Harvey could be a part of the rotation in 2013. A September call-up could be a springboard to that.
What about sooner? Harvey likely is ticketed for Double-A to start the year, and it's highly unlikely anything he could do in spring training would alter a minor league assignment for April.
"Well, Mejia certainly changed our mind in the past," Warthen said, allowing for the possibility of a pre-September call-up. "And there's been a history of people changing people's minds. So if he comes out there and does what he's capable of doing and keeps moving up the chain, you might have to discuss it. Depending on where we are and whether we are looking at him being a starter for us in the 2013 season, yeah, we'll have that discussion. But it's all predicated on how he does during the course of the year."
Said Harvey: "Everybody in this locker room wants to do that -- if you're a pitcher, if you're a position player, you want to play in Citi Field. I can't come down here with too much pressure."