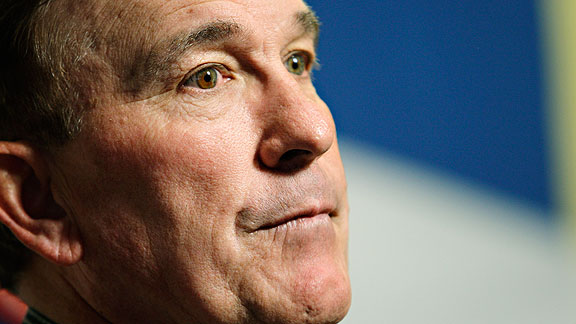 AP Photo/Frank Franklin II
Gary Carter passed away Thursday, his family confirmed.
GARY CARTER passed away Thursday at 4:10 p.m. after a battle with brain cancer, his family confirmed. The ESPN news story is here. And read Tim Kurkjian's obituary here.
Compiled by Stats & Information:
BIO
- April 8, 1954 (age 57)
- Nicknamed "Kid"
- 19 MLB Seasons with 4 teams (Expos, Mets, Giants, and Dodgers)
- 11-time All-Star
- Member of 1986 World Champion Mets
- 2-time All-Star Game MVP (1981, 1984)
- 1989 Roberto Clemente Award Winner
- 3-time Gold Glove winner (1980-82)
- 5-time Silver Slugger Award Winner (1981, 82, 84, 85, 86)
- 2003 National Baseball Hall of Fame Inductee
NOTES/GRAPHICS
Gary Carter By Team
Seasons-HR -RBI
Expos 12-220-823
Mets 5-89-349
Giants 1-9-27
Dodgers 1-6-26
Gary Carter
Expos/Nationals Career Ranks
Games 1,503 2nd
HR 220 3rd
RBI 823 3rd
Hits 1,427 4th
Runs 707 4th
Walks 582 2nd
Total Bases 2,409 3rd
Most Career HR Hit As A Catcher
MLB History
Mike Piazza 396
Carlton Fisk 351
Johnny Bench 327
Yogi Berra 306
Ivan Rodriguez 304
Lance Parrish 299
Gary Carter 298
Most 100+ RBI Seasons
Primary Position: Catcher
Mike Piazza 6
Johnny Bench 6
Yogi Berra 5
Gary Carter 4
Bill Dickey 4
THE KID'S GREAT 8
Gary Carter's Eight Most Memorable Mets Moments
1. Dec. 10, 1984: Expos trade Carter to the Mets for Hubie Brooks, Mike Fitzgerald, Herm Winningham and Floyd Youmans.
2. April 9, 1985: Walk-off homer in first game as a Met on Opening Day.
3. Oct. 14, 1986: Walk-off single in Game 5 of the NLCS against Astros (breaking major slump)
4. Oct. 22, 1986: Hit two homers in Game 4 of 1986 World Series, the second one was one of the longest homers you'll ever see. There were stories about how it ended up on the Mass Pike.
5. Oct. 25, 1986: The two-out single that started the 10th inning rally in Game 6 against the Red Sox.
6. Oct. 27, 1986: Wins World Series with Mets -- their first title since 1969 (and most recent). Drives in 9 runs in series to lead Mets.
7. 1988: Named Mets co-captain.
8. 2001: Inducted into Mets Hall of Fame (Baseball Hall in 2003 as Expo, sparking debate).
STATEMENTS
"The baseball world lost one of its gladiators today, and I have lost a friend. Gary Carter was everything you wanted in a sports hero: a great talent, a great competitor, a great family man, and a great friend. To know Gary was to care deeply for him, and I am deeply saddened. All my thoughts and prayers are with his wife Sandy and their children."
- Ron Darling
======
"On behalf of everyone at the Mets, we extend our deepest and heartfelt condolences to Gary's family -- his wife Sandy, daughters Christy and Kimmy and son D.J. His nickname 'The Kid' captured how Gary approached life. He did everything with enthusiasm and with gusto on and off the field. His smile was infectious. He guided our young pitching staff to the World Series title in 1986 and he devoted an equal amount of time and energy raising awareness for a multitude of charities and community causes. He was a Hall of Famer in everything he did."
- Mets owners Fred Wilpon, Saul Katz and Jeff Wilpon
======
"It is with profound sadness that we mourn the loss of Hall of Fame catcher Gary Carter. Gary's enthusiasm, giving spirit and infectious smile will always be remembered in Cooperstown. Our thoughts are with Sandy, Christy, Kimmie, DJ and the entire Carter family on this very sad day."
- Jane Forbes Clark, Chairman of the Board of the National Baseball Hall of Fame and Museum
======
"When you think of the great baseball field generals, you think Gary Carter. He ran the game from behind the plate with strong leadership and passion. The Kid's contribution to our National Pastime is big, but his heart was even bigger. We'll always remember his caring way, ever-present smile and strong devotion to family, community and the Baseball Hall of Fame."
- Hall of Fame President Jeff Idelson