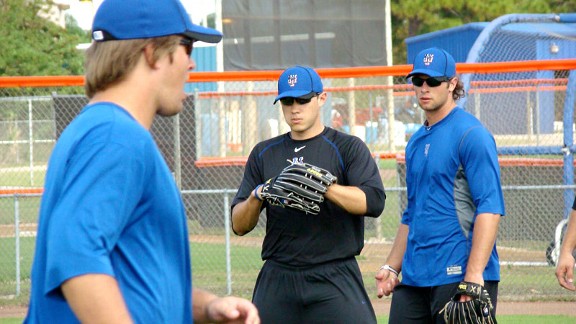 Adam Rubin
Matt den Dekker (left) and Kirk Nieuwenhuis work out Thursday in Port St. Lucie.
Andres Torres is slated to be the center fielder for the Mets in 2012. But the former San Francisco Giant hit only .221 last season, and there figures to be little safety net on the major league roster if Torres falters.
So the opportunity certainly could present itself at some point this season to one of the two center-fielder prospects who will be in big league camp this spring -- Matt den Dekker or, more likely, Kirk Nieuwenhuis.
Both players already are in Port St. Lucie working out, even though Mets position players don't officially report until next Saturday.
Nieuwenhuis, 24, is a former third-round pick in 2008 out of Azusa Pacific, who was recruited by major programs including Colorado and Colorado State to play college football. He has that type of build and mentality. Big for a center fielder, the 6-foot-3, 215-pound Nieuwenhuis is known for his aggressiveness tracking fly balls, including fearlessly into the wall.
His résumé includes a highlight-reel catch in the gap in Trenton while playing for Double-A Binghamton in 2010.
Of course, the aggressiveness has meant Nieuwenhuis has had a tendency to get banged up. He believes that Eastern League catch in Trenton started a labrum tear in his left shoulder.
After being unable to lift the shoulder after that catch, he finally felt better after 10 days. But the shoulder later felt loose. And last season with Buffalo, he ultimately required July 11 surgery to that muscle. Doctors placed three anchors in the front and one in the back of the labrum.
"I play hard. That's just my game," Nieuwenhuis said. "If I change that, I really minimize my chances."
The 24-year-old Den Dekker, a fifth-round pick out of the University of Florida in 2010, is known for his highlight-reel catches, too.
He has been tabbed the top Gators defensive outfielder ever, and made SportsCenter's top-10 plays both at the College World Series, then in last March's Grapefruit League action with the Mets. He had been borrowed from the minor league side and was not even officially in camp.
Den Dekker's camp last year prompted Wally Backman to lobby for the outfielder to break camp with Double-A Binghamton. Instead, the lefty-hitting, lefty-throwing den Dekker ultimately began in Class A St. Lucie, where he hit .296 with six homers and 12 steals in 267 at-bats. Double-A proved an adjustment after a promotion. Den Dekker hit .235 and struck out an unwieldy 91 times in 272 at-bats.
"I think getting my feet wet up there for half the year and seeing what it's like will help me this year," said den Dekker, who should open 2012 with the B-Mets. "I struck out a lot last year. With my speed and ability to get on base, I've just got to work on that and do a better job of getting on base for the other guys. … I think I'm a good defensive player, and hopefully I can become a better hitter and kind of be known for that as well."
The lefty-hitting, righty-throwing Nieuwenhuis hit .298 with six homers and five steals in 188 at-bats with Triple-A Buffalo before his season-ending surgery. He had a reputation in 2010 for being susceptible to left-handed pitching as well as breaking balls away from him, but has made strides in closing those holes.
Terry Collins did not sound sure this week whether Nieuwenhuis' large frame meant he would be better suited for a corner outfield role than center field. But Nieuwenhuis believes he can handle center field. It's not out of the realm of possibility that the former high school running back could steal 15 to 20 bases a major league season in addition to hitting 20 homers.
"They played me there for three years now," Nieuwenhuis said. "I feel real comfortable out there. I love playing center field. I don't look like a center fielder, but I feel like I can play."
Said one NL scout: "I thought he could handle center field well when I saw him in 2010. He kind of reminds me of a left-handed version of a young Jason Michaels -- a stocky, built guy. Physically imposing, thick-bodied kids. The ball comes off his bat well. When Jason came up he played center, right and left. They look a little bit alike, and they're both aggressive players. Jason has had a decent career. I think Kirk has had a chance to be a big leaguer for a while, but he has to stay healthy."
As for center field, the scout added, it's about jumps on balls.
"It's not about having blazing foot speed," he said. "He has good instincts for all those things."