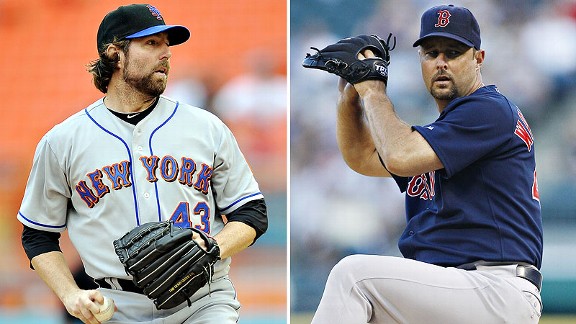 US Presswire
With the retirement of Tim Wakefield (right), R.A. Dickey (left) will be the lone knuckleballer in the majors in 2012.
R.A. Dickey appreciated fellow knuckleballer Tim Wakefield mentioning him in the former Boston Red Sox pitcher's retirement speech. But now that Wakefield has hung up his cleats, Dickey is feeling, well, kind of isolated.
"For a period there were four, with [Tom] Candiotti, [Phil] Niekro, [Charlie] Hough and Wake," Dickey said about the major league knuckleballers clan. "It's fairly lonely I think. I feel a little bit of loneliness. I think you'd have to say, just by what we've all seen, that it's a dying art. One more died, what, two days ago? There's one left in the big leagues. My hope is that somebody is going to see the real value and want to keep doing it."
Dickey said he could not name another knuckleballer on the horizon for a major league career. The only other currently competing at a high level is Charlie Haeger, but he pitched last season in the minors and is poised to miss this season following elbow surgery. Haeger last pitched in the majors in 2010, with nine appearances for the Los Angeles Dodgers, including a start against the Mets that season.
"I don't know outside of him if there's anybody else even tinkering with it," Dickey said.
Dickey had a knuckleball convention with Wakefield, Niekro and Hough at a Lake Lanier resort outside Atlanta in November. He sensed then that Wakefield might retire, which became official in recent days.
"I sent him a message. I said, 'I don't know whether to congratulate you or be sad,'" Dickey said. "That's really how I felt. I'm sure he's torn, obviously. I had a feeling that if it wasn't going to be with Boston, that he was going to hang it up. We had that little thing where it was Phil, Charlie, myself and Tim down in Atlanta. And we kind of talked about it pretty candidly. I felt like that would be the way that it would end up. I'm sad because I want him around. It's fun to be able to watch somebody who does what you do. At least sometimes, in the past, it has leant me some things that I've needed to see. And now I've got to go to the film and watch him pitch instead of getting to see him throw a bullpen, which I used to do."
Dickey said he tutored one independent-ball pitcher who visited his Nashville hometown this offseason. He also had parents of a couple of high school pitchers contact him.
A documentary about knuckleballers, which includes super-slow-motion footage of Dickey's pitching, is scheduled to debut at the Tribeca Film Festival in mid-April, according to Dickey.
Said Dickey: "My thought has always been, 'Why don't you take a guy that you were going to release anyway and give him just a shot, right here?' … Let me stick you in extended spring [training] and see if something comes of it -- a guy that's got a good makeup, maybe. Of course that seems logical. Baseball doesn't always operate logically.
"It's usually a pitch born of desperation, you know? I mean, really. And a lot of times people's egos might get caught up in it, thinking they have more to offer than they really have. It's kind of your last-ditch effort to hold onto a dream. I certainly view it that way. And it's hard to do. It's taken me five years of really committing to it to just produce what you've seen the last two years. So there's a lot of adversity that comes with it."