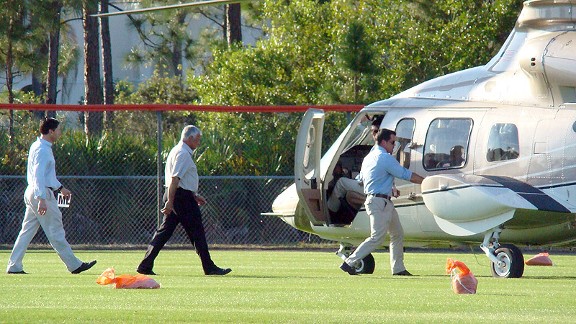 Adam Rubin
Terry Collins and Jeff Wilpon board a chartered helicopter bound for the Knicks-Heats game, a 120-mile trip from Port St. Lucie. Sandy Alderson, J.P. Ricciardi and John Ricco also were on the excursion.
Despite a payroll slashing of roughly $52 million this offseason, New York Mets executives did not pinch pennies when it came to travel Thursday night.
A private helicopter landed on a field at the team's complex, and chief operating officer Jeff Wilpon, general manager Sandy Alderson, manager Terry Collins and front-office executives J.P. Ricciardi and John Ricco hopped on board. The destination: an approximate 120-mile trip to Miami to watch Jeremy Lin and the Knicks face the Miami Heat.
The charter was a particularly awkward optic since a court hearing simultaneously was scheduled in New York to hear oral arguments relating to the Wilpons trying to toss a $386 million lawsuit alleging they benefited from Bernard Madoff's Ponzi scheme.
A team official insisted the charter did not come from team funds.
Gary Freeman, director of operations at Miami-based HMC Helicopter Services, said after reviewing a photo that the helicopter was a Bell 430, the mode of transit used by the Miami Dolphins owner. Freeman estimated the high-end helicopter charters for $3,000 an hour. To put that into context, the Mets laid off a part-time minor league clubhouse worker in Port St. Lucie who made $3,000 annually in a cost-saving move.
Alderson has been trying to take a lighthearted approach to the Mets' finances, even joking about his drive down to Florida for spring training that the organization only reimburses for gas at a downhill rate.