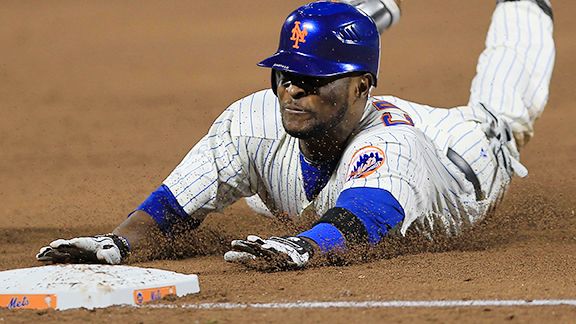 Chris McGrath/Getty Images
Manager Jerry Manuel said Luis Castillo (above) may have to land on the disabled list this weekend because of ailing feet.
Luis Castillo may be placed on the DL as soon as Friday, manager Jerry Manuel acknowledged.
Castillo, who has a bone bruise beneath his left foot, indicated his right heel now is causing more trouble because of overcompensation. Alex Cora is starting at second base for the second time in the series on Wednesday as the Mets play a rubber game against the San Diego Padres. Castillo expects to be examined Thursday in New York, on a team off-day.
"When we're home, we'll see what we do," Castillo said, "because I don't want to be playing one day and the next game I've got off. I don't feel much better and I need to find out what I have to do. ... You play, and the next day I don't feel 100 percent. I can say I don't feel good. But if you play every day and you don't get rest, how can you get better?"
Still, Castillo wasn't advocating the DL.
"No, because I don't need to go to the DL," Castillo said. "If I go to the DL, I would go a long time ago. Maybe we'll see the doctor and see what's going on."
Said Manuel: "For him to be moving in the manner in which he's moving out there, it's not good. It's not good. I can't watch him walk around out there like that. ... Unless we see some significant improvement here in the next day or so, I think the wisest thing would be just to say, 'Hey, shut it down until it gets right.'"
Manuel indicated Daniel Murphy is not a credible option for a promotion if Castillo is placed on the DL, since Murphy only played his first game at second base with Triple-A Buffalo on Tuesday and would not yet be an ideal fill-in for a two-week period at the position. Instead, Justin Turner -- who was claimed last month from the Baltimore Orioles -- or Ruben Tejada would be the appropriate call-up. Murphy's promotion could be timed, Manuel intimated, to when the Mets play in American League ballparks and need a DH -- June 11-20 at Baltimore, Cleveland and at the Yankees.
If Castillo lands on the disabled list, the Mets would need to make two roster moves this weekend. Manuel confirmed Jon Niese will be activated from the disabled list for Saturday's start against the Florida Marlins.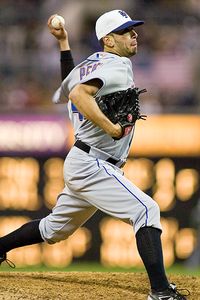 Derrick Tuskan/Icon SMI
The Mets hope Oliver Perez will go to the minors when Jon Niese is activated from the disabled list on Saturday.
The hope remains Oliver Perez will accept a demotion at that point since he isn't a useful piece of the 25-man roster.
"That would be ideal," Manuel said. "If not, then we have to explore something different."
Otherwise, Manuel said, Jenrry Mejia will be in the dialogue for a demotion to begin working as a starter. The easiest other options would be Raul Valdes or Ryota Igarashi, since both also have minor league options. Elmer Dessens would have to go through waivers. A team official predicted that if Perez doesn't accept the demotion, it would probably be a late-Friday decision who goes, depending on usage in the series opener against the Marlins. Manuel said it would need to be a reliever, rather than a position player that would reduce the bench to four.
Specifically on Mejia, Manuel said: "I will say that it would be a broad discussion. I'll give you that."
Pitching coach Dan Warthen suggested he would like to see Perez first go to the team's complex in Port St. Lucie, Fla., to work with minor league pitching coordinator Rick Waits and St. Lucie pitching coach Phil Regan before being dispatched to Triple-A Buffalo for regular work.
"Who's our best minor league coach? Rick Waits is supposed to be," Warthen said. "Phil Regan is very good. I would have no problem with him throwing batting practices and sides until he feels like he's hitting the spot and repeating the delivery, and then going to Triple-A and starting."
NO. 2: Angel Pagan is due to bat second in the lineup Wednesday for the first time this season. Manuel suggested days earlier that placing Pagan in the No. 2 hole wasn't a likely scenario, since he wanted to break up righties deeper in the order.
The rationale then? The manager explained that with the lefty-hitting Cora in the lineup against a southpaw rather than Castillo, which under normal circumstances would not happen, this lineup made more sense than having Cora hit No. 2.
Still, Manuel noted, that if Castillo goes on the DL, Pagan may stay at No. 2.
FELICIANO ON THE WAY? Melvin Roman, the agent for Triple-A outfielder Jesus "Motorita" Feliciano, told a Puerto Rico-based newspaper he expects the career minor leaguer to be promoted to the Mets as soon as this weekend. Roman told El Nuevo Dia that his belief is based on a conversation with GM Omar Minaya.
"With the season that he's having in Triple-A and with the form he has played the last three years batting over .300 in the minors, finally, in the next few days, 'Motorita' it seems would have the opportunity to see his dream realized of playing in the majors," Roman told the newspaper in Spanish. "He has earned the opportunity. ... We have spoken about his progress and Minaya has said he knows it will be this week when he gives him the opportunity. He thinks the hour is now."
Feliciano, who had been playing right field with Triple-A Buffalo, has shifted to center field since Friday. If the promotion did materialize, the speculation centered on Gary Matthews Jr. losing his roster spot. However, Chris Carter also would be a possibility, since he's largely gone unused and could benefit from getting sharp by playing regularly again in Triple-A.
The 31-year-old Feliciano has never played in the majors. He lifted his average to .403 with a 5-for-5 performance Sunday with the Bisons, but then dipped under that plateau Tuesday when he was hitless for Buffalo.
Regarding his sudden switch back to center field, Feliciano told the Buffalo News' Mike Harrington: "I've really played my whole career there, more than the other spots until the last couple years. When you play, it's always a little better. When you don't play there too much, it's tough because you have to learn to cover room again. I'm not the fastest guy, but I get good jumps and I know how to play the game."