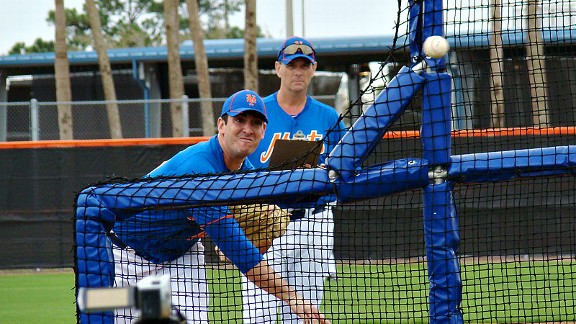 Adam Rubin
2010 first-round pick Matt Harvey throws batting practice on Saturday at spring training.
Inside the Mets' spring-training clubhouse Saturday afternoon, Josh Thole summoned a passerby and asked if he had witnessed 2010 first-round pick Matt Harvey throwing batting practice to him, Ike Davis and Daniel Murphy as well as prospect Zach Lutz.
The first live batting practice of spring training is hardly of the magnitude to warrant anointing someone a future star. But, suffice it to say, Thole was very impressed with the right-hander's pitching arsenal. Harvey, the seventh overall pick two years ago, turns 23 on March 27.
"The heaviness, the electric-ness on his ball," Thole said about what stood out. "He was throwing all of his pitches for strikes. It really looked like he knew what he was doing. Heavy, like it pops the mitt hard. It's like a bowling ball, so when you hit it, it feels different hitting it on your bat. … The sink on it was pretty impressive. The breaking ball, the last one he threw to me started on my hip. I jumped out of the way and it was down the middle. You don't see that on an everyday basis, especially for a guy who hasn't pitched in the big leagues yet."
Said Davis: "The backup curveball was pretty good. If it was a two-strike count there, I definitely would have been walking back to the dugout. Obviously these guys aren't throwing as hard as they can and breaking it off as hard as they can, but his mechanics are real smooth. And when he stays on top of the ball, it jumps out of his hand and it has tremendous run [breaking in on a righty batter]. I'd like to see him in a game when he's throwing 97 [mph] like he can. With that movement, it'd be pretty nasty. And his curveball is really good too.
"I think he'll help us out this year at some point," added Davis, who teamed with Harvey on Friday night to go 12-0 in FIFA for PlayStation while playing as Manchester City.
Terry Collins said he is impressed with how Harvey carries himself as well as the highly regarded prospect's inquisitiveness. Collins said Harvey repeatedly asks coaches what he needs to improve to become a major league pitcher.
"The thing besides his stuff, this guy's makeup is off the chart," Collins said. "He's bound and determined to make this team. He talks to every coach about it. 'What do I need to do? What do I need to do?'"
Sandy Alderson has said Harvey is not even in the consideration set to break camp with the team if an issue arises with one of the Mets' starting pitchers, but Harvey's mindset is otherwise.
"That's where I want to be," Harvey said about Citi Field. "I came to camp trying to make the team. I'm just going to do everything I can. And whatever help I can get -- whether it's asking a simple question like that, what I need to improve on -- no matter when it is, I think 10 years from now I'm probably going to ask the same question."
Harvey had success the first half of last season at Class A St. Lucie, but he found the level of competition at Double-A Binghamton more challenging. In 12 starts with the B-Mets, Harvey went 5-3 with a 4.53 ERA. He allowed 58 hits and 23 walks while striking out 64 in 59 2/3 innings.
Harvey recognized his straight, four-seam fastball up in the zone was getting pounded. So he worked this offseason on improving a two-seam fastball he used even at the University of North Carolina, but which tended to be flat when he threw it last season. A two-seam fastball, aka a sinker, dives down and in on right-handed batters.
Harvey hopes to throw the two-seamer more in 2012, and use the four-seam fastball for "climbing the ladder" when he needs a swing and miss. He changed the grip on the sinker by loosening his hold and going to a different seam. He said the resulting change in the pitch's break while throwing to Mike Nickeas in Atlanta this offseason was dramatic.
"Obviously that's a pretty impressive looking pitcher," Collins said. "When you stand behind there, he's got a feel for it all. He's got tremendous rotation on his breaking ball. He's got a good slider. He knows how to sink it. We all know he can throw hard. Now it's a matter of dealing with the process, and that's getting better. That's getting better command, more consistency."