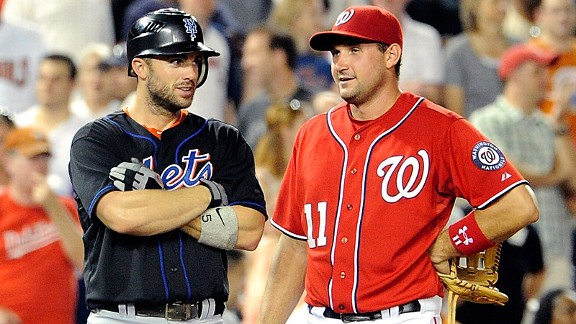 G. Fiume/Getty Images
David Wright (left) grew up with Ryan Zimmerman (right) in Norfolk, Va. Now, Zimmerman is locked up through 2019 with the Nats, while Wright could be a free agent as soon as next offseason.
On the day third baseman Ryan Zimmerman completed a six-year extension with the Washington Nationals that now locks him up through 2019 for a total of $126 million, and which offers him no-trade protection beginning in two years, David Wright knew why New York reporters encircled his locker.
Wright, 29, is signed for $15 million this season. The Mets hold a $16 million option for 2013, or otherwise are responsible for a $1 million buyout.
"We haven't approached the Mets, and the Mets haven't approached our side. It's kind of status quo," said Wright, who grew up playing on travel teams with Zimmerman since their pre-teen years in their native Norfolk, Va. "There's nothing to report. Ryan is in a different situation where they've been working on this for a while. It's good for baseball. He was their first pick going to Washington. He's been there for a lot of downs. It looks like he's going to be there for a lot of ups as well because they're obviously making some strides in the right direction."
When does Wright feel is the proper time for the Mets to engage him, if they intend to? Wright said he was unsure, but predicted it would be the Mets, not him or his agents, who initiate any contact.
"I haven't even discussed that with my agents, and obviously the team hasn't discussed it with my agents or me," Wright said. "I think that it might occur in the future. It might not. I don't know. I'm not really sure the protocol, but I would assume the team pretty much approaches the player. I don't think the front office wants 25 different phone calls from 25 different agents about extensions. We'll wait and see. I'm very happy with my situation. I'll go out and just try to play and not worry about that. The last thing on my mind is next year or the year after that."
Wright figures the Mets probably need to wait to see whether their finances stabilize anyway, so now is not a practical time. He noted it's probably better not to discuss extensions during spring training or in-season anyway. So next offseason is when it might make sense to begin exploring it.
"Probably, yeah," Wright said about the team's uncertain finances prompting the club to wait to engage him. "I don't know what's going on with the financial situation or the court cases or anything like that. I'm not sure how much that has to do with the players on the field. But I'm sure they'd like to get that cleared up. But, with that being said, we haven't even made a phone call. They haven't made a phone call. I'm not unhappy about that. I'm really happy with the situation I'm in and am just kind of looking forward to the year.
"I think Ryan did it the right way. They did it before spring training, per se. Now it's kind of out of the way. My first extension we signed about halfway through the 2006 season. It's probably better to not even do it during the season or during spring training. Like Zim and those guys have said, it creates kind of a distraction.
"And apparently it's a distraction when you're not even the one getting the extension," Wright continued with a smile, noting how he was being quizzed about Zimmerman's new deal.
Zimmerman is signing his extension at age 27, whereas Wright will be 31 in December 2013, during the winter he is eligible for free agency, assuming the Mets pick up the option.
"He's a good friend of mine, and we grew up together, so I'm really excited for him and happy for him, because that's what he wanted," said Wright, who played on one travel team in high school with Zimmerman as well as B.J. Upton and Mark Reynolds. "… He loves it there, and that's kind of become our hometown team, per se. So I know that's where he wanted to be, and they got something worked out."