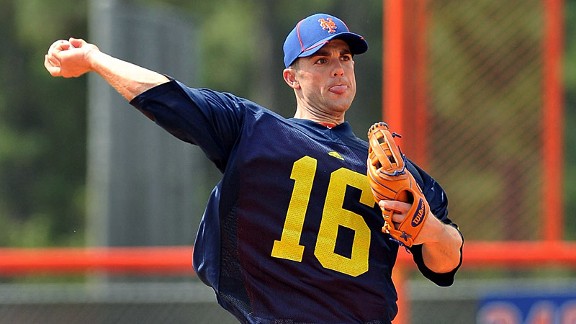 Brad Barr/US Presswire
David Wright dons a Michigan football jersey after losing a Sugar Bowl bet with Jeff Wilpon.
As players streamed out of the clubhouse after a 45-minute address from Terry Collins and Sandy Alderson on Monday morning for the first full-squad workout, David Wright had on a different uniform. Wright was wearing University of Michigan quarterback Denard Robinson's No. 16 jersey. It was the result of losing a Sugar Bowl bet with chief operating officer Jeff Wilpon.
Fred Wilpon's alma mater is Michigan. Wright roots for Virginia Tech. The Wolverines beat the Hokies, 23-20 in overtime, in the bowl game.
"It was just a bet," Wright said. "I got a phone call from Jeff and his son the day of the Sugar Bowl game. I had a couple of brothers who went to Virginia Tech, and grew up rooting for Virginia Tech. You can't really say no to the owner -- especially you could expect a phone call when they're 3-, 3½-point favorites. I doubt they would have made that phone call if they were 3-, 3½-point dogs. Michigan ended up winning. The bet was the loser had to wear the other team's jersey out on the field for the first day. That's about it."
As for wearing Robinson's jersey, Wright added: "Well, it didn't make me any faster. It didn't help my spiral any. I know Jon Niese is a big Ohio State fan. Fortunately I didn't have to face him in live BP today. But it was all in good fun. And then during the meeting today they broke out the jersey. Hopefully they get a rematch next year."
The Judy and Fred Wilpon Family Foundation donated $12 million to the University of Michigan five years ago, which led to renovations of the baseball and softball facilities, which now bear the family's name. The Michigan baseball team played a baseball series against Iona at the Mets' complex this past weekend.