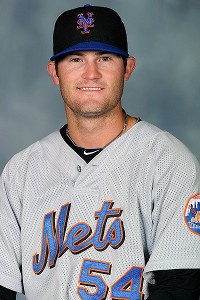 Courtesy of New York Mets
Reese Havens
Second baseman Reese Havens, who was selected four slots after Ike Davis when the Mets had two first-round picks in the 2008 draft, again is dealing with a back issue.
Terry Collins said the issue is just stiffness and that trainers believe it's just muscular in nature.
Havens has been tormented by side and back issues since the draft, which has limited him to only 213 professional games over four seasons. He underwent surgery during the 2010-11 offseason to remove an inch of a rib, which was believed to be the root cause of much of the trouble.
Havens, 25, is considered a solid offensive player. He hit .289 with six homers and 26 RBIs and had a .372 on-base percentage in 58 games with Double-A Binghamton last season. Havens was moved from his natural shortstop to second base two years ago.
The Mets had a meeting specifically devoted to keeping Havens healthy in camp Monday. But Havens, who was added to the 40-man roster during the offseason to protect him from eligibility for the Rule 5 draft, told Collins on Tuesday that he had been battling back tightness.
"He's gotten real stiff," Collins said. "So [the trainers] just thought, 'Hey, he's going to need a couple of days just to loosen back up a little bit.' So we'll see if we can get him out there by the weekend.
"It's frustrating, because we all know what kind of talent he has. He's real frustrated, too. When he came in and talked to me yesterday, he was really about as down as I've seen him. He's got a chance to be in big league camp. He's got a chance to play and show everybody what he can do. And he will. We know he's going to be out there. But to have this happen at this time in camp, he's real frustrated. And so are we because we want to watch him play."