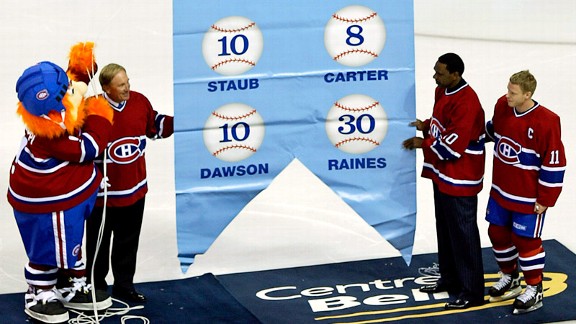 Paul Chiasson/Associated Press/CP
The Montreal Canadiens in October 2005 raised a banner recognizing the numbers retired by the defunct Montreal Expos. The Expos' successor, the Washington Nationals, honored the number retirements for one season before putting them back into circulation.
David Wright praised the patch Mets players began wearing on their right sleeve Thursday as a tribute to Gary Carter. And Wright went so far as to suggest it may be appropriate for the Mets to retire Carter's No. 8.
"Sure, why not? It would make sense," Wright replied when asked if Carter's number ought to be retired. "I don't exactly know the numbers of his Mets career off the top of my head. He was obviously in Montreal quite a bit. But he was that missing piece when he got traded over. That's for others to decide. As far as I'm concerned, it would be a little weird seeing somebody else wear No. 8 in a Mets uniform."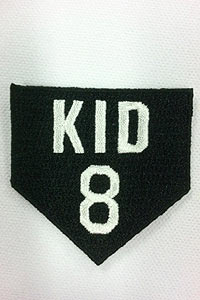 Courtesy of the Mets
The Mets actually have taken Carter's number out of circulation, even if it has not been formally retired. Coach Matt Galante in 2002 was the last to wear No. 8 with the Mets.
The Montreal Expos had retired Carter's No. 8 on July 31, 1993. The Washington Nationals honored that their inaugural season in 2005, but gave it to Marlon Anderson the following year. Danny Espinosa currently has the number with the Nats.
As for the Mets' patch, Wright said: "I think that it's well-deserved, obviously. He is one of the faces. If there was a Mt. Rushmore of Mets, he'd be on it. I think it's only fitting that we have a nice tribute for him this year and there's some nice memories shared of Gary."
Terry Collins was present when Carter's widow Sandy was presented the patch by Fred Wilpon at the memorial service last Friday in Palm Beach Gardens, Fla.
"Fred came up to me before the memorial and said, 'We want to put these on the uniform,'" Collins said. "I thought it was terrific. We found Sandy when it was over and Fred and I told her we were going to put it on our uniforms. She was certainly thrilled."