Wilmer Flores has not appeared in the field in either intrasquad game, and with good reason. The 20-year-old infielder has been suffering from a sore shoulder.
For the past few days, when the Mets do their warm-up throwing in the morning, Flores instead takes grounders from a coach on the side because he has not been permitted to throw a baseball. Flores should resume throwing Sunday.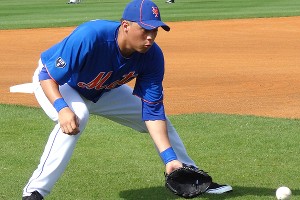 Adam Rubin
While teammates play catch to warm up, Wilmer Flores instead has been doing extra groundball work.
Flores hit .269 with nine homers and 81 RBIs in 516 at-bats last season at Class A St. Lucie.
He had exclusively played shortstop during his Mets minor league career, but his 6-foot-3 frame and slow first-step speed have now prompted team officials to resolve to expose him to other infield positions. Flores primarily may play third base during the upcoming minor league season, while not completely abandoning shortstop.
Flores already has winter-ball experience outside of shortstop. With Margarita in the Venezuelan winter league during the offseason, he primarily split his time between second base and third base.
Flores actually had an odd winter-ball season. He was hitting only .222 at the end of November, then had an eight-day absence from games. After he resumed playing, he produced a hit in 13 of his final 14 games and notched a .423 average (22-for-52) during that span. Officials with the winter-league team had questioned Flores' work ethic to Venezuelan media, but a Mets official suggested there was a family situation going on at the time.