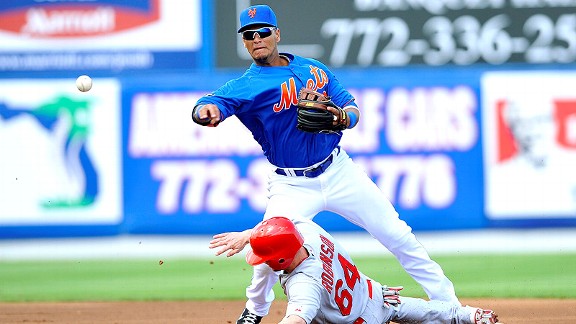 Brad Barr/US Presswire
Ronny Cedeno drew praise from manager Terry Collins on Tuesday for the backup infielder's plate discipline.
R.A. Dickey followed Johan Santana with two perfect innings and the Mets ultimately beat the defending-champion-yet-Albert Pujols-and-Tony LaRussa-less St. Louis Cardinals, 8-6, on Tuesday afternoon in Port St. Lucie.
The Mets also dropped a split-squad game to the Houston Astros, 4-1, in Kissimmee.
• Against the Cardinals, Andres Torres continued a favorable introduction to the organization, going 2-for-3 with a three-run triple. Another newcomer, Ronny Cedeno, went 1-for-2 with a walk and RBI while starting at shortstop. Cedeno drew praise from manager Terry Collins.
Collins said staff recently met with Cedeno and preached plate discipline. Cedeno, who has a .286 career on-base percentage in seven seasons, responded with a 10-pitch walk in Monday's Grapefruit League opener, then Tuesday's showing.
"He's done exactly what we've asked him to do," Collins said. "He's had great at-bats."
• Dickey retired all six batters he faced, including Skip Schumaker, Matt Holliday and David Freese consecutively in his second frame.
• Borrowed from minor league camp, 2011 first-round pick Brandon Nimmo made his first career Grapefruit League appearance and drew a walk and scored. Fifteenth-round pick Phillip Evans, who was handed an over-slot $650,000 signing bonus to keep him from playing college ball at San Diego State, also debuted. Left-hander Josh Edgin, whom Paul DePodesta has said could fly all the way to the majors this season despite not yet appearing above Class A, recorded the final two outs via strikeout for the save. Darrell Ceciliani had an RBI double to cap the scoring.
With this the only split-squad game of camp and Collins wanting to see backups such as Kevin Baxter, Adam Loewen, Omar Quintanilla, Lucas May and Rob Johnson get plenty of exhibition action, the manager does not foresee many other spring-training opportunities for the kids to come over from minor league camp and appear. That's despite the Mets' camp size -- 44 players -- being the lowest Collins can remember in any of his seasons on a major league staff.
Collins got a kick out of the 18-year-old Nimmo's youthful enthusiasm, particularly when the teenager left the dugout to greet D.J. Carrasco by the foul line after the reliever finished an inning on the mound.
"I need to let him know that we let the players get to the dugout before you shake their hand," Collins quipped. "You don't have to go meet them at the foul line. He was al excited. He was very, very excited. I'll tell you what, he got down that line good, boy."
Nimmo, who turns 19 in three weeks, was in awe of Holliday's 6-foot-4 frame.
"He's the only guy that I think that I've seen that's actually bigger in person than he is on the screen," the prospect said. "Just being on the field with those guys is a blast."
Said Collins: "We were sitting there in the ninth inning today. [Coach] Bobby Floyd said, 'You know, Brandon Nimmo a year ago was playing American Legion baseball, because they don't have a high school program in Wyoming, or he's running track. And Phillip Evans was playing high school in San Diego. And today they're playing in a major league exhibition game.' That's pretty impressive for two young kids."
• Pitching prospect Jeurys Familia, who is in big league camp, did have a rough appearance. Familia surrendered a first-pitch grand slam to Matt Adams in the right-hander's second inning on the mound and was pulled with two out.
"I thought he actually threw the ball great the first inning," Collins said. "The second inning, actually the same thing Matt [Harvey] did last night, they start to get a little too fine, try to go to the corners instead of attacking the zone. And he got himself in trouble. Two bases on balls is what killed him."
• First-year Cardinals manager Mike Matheny echoed the praises of Santana's performance.
"He had a real effective changeup," Matheny said. "The ball was looking good out of his hand. It doesn't look like he was holding anything back. Nasty changeup. You've got to have arm speed for that changeup to work. And you can tell really on the swing that Yadi [Molina] took -- the swing and miss -- that thing disappears. He does a good job of hiding the ball. But you've got to have some kind of velocity in order to make that changeup work like that."
Pitching coach Dan Warthen told reporters that the Mets' radar gun had Santana sitting at 90 mph and topping out at 92 mph. But the stadium gun, which appeared to match scouts' guns, had Santana sitting at 87-88 mph and topping out at 90 mph.
• At the other split-squad game, against the Astros, starter Chris Schwinden allowed three runs (one earned), including a homer. Second baseman Daniel Murphy had a throwing error on an attempted double play. Fernando Cabrera also allowed a solo homer in two innings. Jeremy Hefner, Armando Rodriguez and Josh Stinson combined for four scoreless relief innings. Josh Satin went 2-for-3 and drove in the Mets' lone run.
• Ex-Met Fernando Martinez, who was claimed off waivers by the Astros during the offseason, went 0-for-3 with a strikeout.