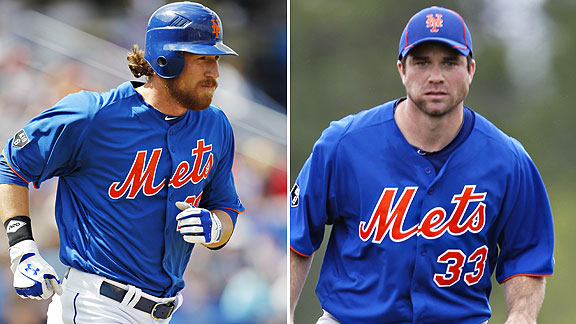 Associated Press
Adam Loewen (left) and Vinny Rottino (right) may be the big beneficiaries if Scott Hairston opens the season on the disabled list.
If Scott Hairston is unavailable for Opening Day because of a strained left oblique muscle -- and team officials hope that is not the case -- the dominoes that fall as a result may very well benefit Vinny Rottino and Adam Loewen breaking camp with the team.
Mets officials want backup lefty- and righty-hitting outfielders, and Rottino is really the only alternative currently in camp to Hairston. The concern is that while opposing manager's need to respect the veteran Hairston off the bench and manage accordingly, Rottino -- who has a .194 average and no homers in 36 career major league at-bats -- would not cause that same trepidation. Rottino has experience playing the corner infield and outfield spots and at catcher.
As for Loewen benefiting as well, Hairston is the primary backup center fielder to Andres Torres. And Loewen, not lefty-hitting outfield competitor Mike Baxter, is capable of playing that position. So if Hairston opens the season on the DL, that would give Loewen a distinct advantage.
The Mets do not want Jason Bay to have to serve as Torres' backup if the season opens without Hairston. He has played 40 major league games in center field, but none since 2005 with Pittsburgh. They also are not inclined to carry a young center fielder such as lefty-hitting Kirk Nieuwenhuis unless he is the starter -- which would not be the case after trading for Torres.
Of course, the twist is this: The Mets firmly believe players will shake loose from other camps as spring training nears its conclusion. That's more so, they feel this season, because of the new collective bargaining agreement. Major league veterans who signed minor league contracts and do not make their big league clubs out of spring training need to receive a $100,000 retention bonus to remain with those organizations. So the belief is that players will hit the market late in camp.
Hairston hopes to play in Grapefruit League games the final week of spring training, but that leaves little margin for error as he battles the same issue that forced him to the DL to finish last season.
The bench already is slated to include Ronny Cedeno, Justin Turner and likely Mike Nickeas.