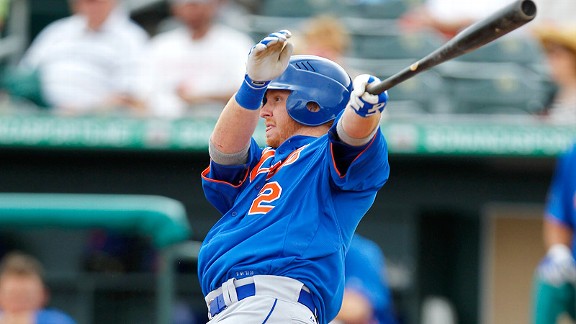 Jeff Roberson/Associated Press
Justin Turner delivers an RBI single during a 3-for-3 day against the Miami Marlins in Jupiter.
Justin Turner homered during a 3-for-3 day that included three RBIs and Jon Niese tossed two scoreless innings as the Mets beat the Marlins' B team, 7-0, Wednesday at Roger Dean Stadium in Jupiter. Bobby Parnell also breezed through a scoreless relief inning as the Mets staff limited Miami to four hits on the afternoon.
Center fielder Matt den Dekker and DH Josh Thole had RBI doubles and Mike Nickeas had two hits and an RBI.
Most of the Marlins' key players, including Jose Reyes, are in Miami to christen the team's new ballpark with a pair of games against college teams and were not present to face the Mets.
• Turner is all but locked into one of the five bench spots -- unfamiliar security in his career. Still, Turner said, he is not taking the mindset of having a reserved Opening Day roster spot. He has never broken spring-training camp with a major league team.
A year ago, in part because Turner had a minor league option remaining, the Mets went with Rule 5 pick Brad Emaus as the starting second baseman and also carried Daniel Murphy on the roster, while dispatching Turner to Triple-A Buffalo. Turner was promoted April 19 when the Mets opted to pull the plug on their Rule 5 draft experiment with Emaus.
Turner went on to finish fourth among National League rookies in RBIs (51), hits (113) and runs scored (49).
Now, with Ronny Cedeno signed to back up in the middle infield and Ike Davis without a bona fide backup at first, Turner's role will be as a righty bat off the bench who can play the infield positions and serve as the primary fill-in for Davis when the first baseman gets a day off.
Turner has played one minor league game at first base, but he did dabble there last spring training as well as during the 2010-11 offseason in the Dominican Republic.
"I'm real comfortable at second and third. I played a lot of short in my career. So I can play there," Turner said. "That's what camp is for this year, I think -- to get comfortable at first."
Said Terry Collins: "I said last year, when you get an opportunity, like he did last year, you make the most of it. And he showed everybody he belongs in the big leagues. The one thing he gives for us, he can play anywhere in the infield, which is going to be huge for us. He came off the bench last year as a pinch hitter in big situations and got big hits. He's a baseball player. He's the perfect guy to have on this club in my mind."
• Niese limited the Marlins to a walk and no hits while striking out two in two innings. He threw 31 pitches (19 strikes).
The southpaw said working on his changeup will be a point of emphasis for him this spring training, as the cut fastball was a year ago. Niese knows he will never get the pitch to Johan Santana's level, but he hopes to be able to command it at a velocity 10-12 mph below his fastball in order to surprise batters and get them out in front, resulting in "rollover" groundouts and pop-ups.
According to Inside Edge, Niese threw his changeup only 4 percent of the time last season. He threw fastballs 72 percent of the time and curveballs 23 percent.
Niese said the changeup is not a pitch he can really learn from simply speaking with Santana. "It takes years and years of practice just to get the feel for it," Niese said.
Said Collins: "I think the changeup is the best pitch in baseball. If you're a pitcher, you should have a changeup in your repertoire. If you can locate your fastball like Jon can, and you've got a change to go with it, you're going to be pretty effective."
As for Niese's outing Wednesday, Collins said: "I thought his command was outstanding today. He kept the ball down. I've told you before: He's got outstanding stuff. When he pounds that strike zone, he gets easy outs."
• Parnell threw seven of nine pitches for strikes in a 1-2-3 third inning that included one strikeout. The appearance was important for Parnell in setting a tone for claiming one of the final two bullpen spots. Parnell, who has a minor league option remaining, imploded in Sunday's final intrasquad game, which was called after the flamethrower plunked prospect Zach Lutz in the left elbow with a pitch. Parnell recorded only two outs while allowing three hits, two walks and the hit batter that day.
"Bobby Parnell wants to make this team in the worst way," Collins said. "He had a couple of rough outings. He had a bad day on Sunday. … But one of the things I saw today was great command. He threw the ball to the outer half of the plate. He threw his breaking ball, which is much, much better -- much improved. He threw the ball good."
• Collins further confirmed Santana is fine for a between-starts bullpen session Thursday. "No matter if you've had surgery or not, you're going to be sore the next day. Everybody is after they pitch. I'm sure he has some stiffness. But he said he felt good. So everything is moving forward for tomorrow."