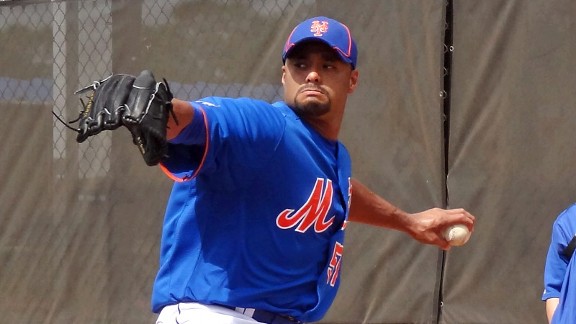 Adam Rubin
Johan Santana tosses a bullpen session Thursday.
Johan Santana tossed a between-starts bullpen session Thursday as scheduled, then pronounced himself fit to face the Miami Marlins on Sunday in the southpaw's second Grapefruit League start.
"I was able to throw my bullpen without any problems and with good intensity and work on all my pitches," Santana said. "And I felt pretty good."
The goal is three innings Sunday against the Marlins, up from the two-inning, 29-pitch Grapefruit League outing Tuesday.
"That will be the goal, to go up to three innings and build up from there," Santana said. "We'll see how it goes. I've been fine. Yesterday I played catch. No problems. Today same thing. No problems. I was able to throw my bullpen. So that's a good sign. Hopefully the next couple of days I'll recover and get ready for Sunday."
Santana should incorporate his slider more Sunday.
"Last time, when I pitched, I was trying to locate my fastballs and I got behind in the count and I didn't get in good counts to throw my slider," Santana said.
Santana said his arm strength so far has not been a surprise.
"Not at all," he said. "We have worked hard. We're trying to work my way back and to be where we used to be. I always throw my bullpens with intensity. Always. Being able to do it right now is great. I'm getting back to where I used to be. So that's a good sign."
The southpaw acknowledged each hurdle he clears as he returns from Sept. 14, 2010 shoulder surgery is a relief.
"Definitely," he said. "For me, it's a day-to-day thing. Every day is important. And every time I go through everything, it's a day closer to coming back."