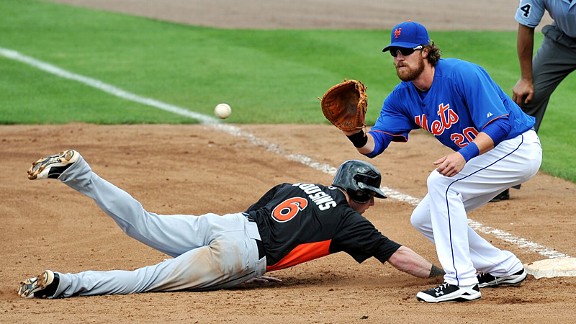 Steve Mitchell/US Presswire
Adam Loewen, manning first base for the Mets, receives a fourth-inning throw as Scott Cousins dives back into first base.
Frank Francisco surrendered the decisive homer to Hanley Ramirez in the fifth and the Jose Reyes-less Miami Marlins beat the Mets, 5-4, on Thursday afternoon at Digital Domain Park.
The Mets loaded the bases with one out in the eighth, but Rob Johnson's grounder forced out Kirk Nieuwenhuis at the plate and Mike Baxter struck out look as the threat went for naught.
Lucas May had delivered a two-run double and Baxter plated him with an RBI single in a three-run first for the Mets. Adam Loewen added a solo homer.
Matt den Dekker led off the bottom of the ninth with a single, but was called out at second base when Jordany Valdespin struck out and was called for interfering with the catcher's throw on an attempted steal.
Jon Rauch tossed two no-hit relief innings, while Miguel Batista (1 1/3 innings) and Tim Byrdak (one inning) also had scoreless efforts.
Neither starter was effective.
Mike Pelfrey allowed four runs on six hits and two walks in 2 2/3 innings, including a homer to Austin Kearns. Meanwhile, ex-Cub Carlos Zambrano allowed three runs on three hits and three walks in 1 1/3 innings.
Zambrano was acquired by Miami during the offseason for Chris Volstad. The Marlins are only responsible for $2.5 million in the final year of Zambrano's five-year, $91.5 million deal.
"I don't think I did a whole lot right," Pelfrey said. "I think the biggest thing, early, I didn't get ahead. It's kind of hard to pitch behind in the count. The sinker today was moving, but it was almost going sideways instead of down. … Obviously I didn't make pitches. I know there were times where May wanted a ball away and I missed, way in. He wanted in, and I missed away. The command wasn't very good today."
Pitching coach Dan Warthen had instructed Pelfrey to use only his two-seamer (sinker) Thursday to work on it. Warthen did not permit Pelfrey to throw a four-seam (straight) fastball.
"I know sometimes one of the hardest places to put it is away to a right-hander," Pelfrey said. "I wasn't able to get it there, so I was kind of limited to throwing it in to righties."
As for Kearns' homer, Pelfrey said: "I tried to throw four straight sinkers in. The first two were balls. The next one was high. It wasn't where I wanted it. And the next one was right down the middle and he hit it.
"I'm not that concerned," Pelfrey added. "Obviously I need to be better. … I think it's too early to worry about the results."
• Terry Collins said he did not doubt that Johan Santana would come through Thursday's bullpen session OK.
"I talked to him yesterday and he felt fine," Collins said. "So I thought he'd be out there today. Like he said, he was pretty stiff yesterday, which you come to expect -- a little extra adrenaline. I told him, 'It's going to be like that each time you go out there. The more you build up, the little bit stiffer you're going to be.' But he feels fine. He's on schedule for Sunday."
• Collins asked Sandy Koufax to speak with Bobby Parnell during the Hall of Famer's visit to camp Thursday.
"Bobby's a power pitcher, and I wanted him to talk to Sandy. He never has," Collins said. "I asked Sandy, 'Have you seen Bobby Parnell?' And Sandy said, 'Yeah, I've seen him a lot on TV.' So I said, 'Well, if you get a chance, I'd like you to talk to him.'
"I just wanted Sandy to reassure him that he got hit at one time, or talk about the delivery. when he's around, you've got to make use of him."
Attuned to the Mets' system, Koufax requested to meet top pitching prospects Zack Wheeler and Matt Harvey. Koufax got to watch Wheeler pitch in a minor league intrasquad game.
"Obviously he saw a great arm off of Zack," Collins said. "He wanted to talk to [St. Lucie pitching coach] Phil Regan about a couple of things he saw."
As for Fred Wilpon's financial situation, longtime-friend Koufax told the Post: "He's going through tough times, and he's a good person. He always has been. We've been friends for 60-some-odd years and I love him. I just hate to see him go through it."
• David Wright (left rib cage) may take some light swings off a batting tee this weekend.
• Andres Torres (right glute tightness) may return to the lineup Saturday, Collins said.
• Pedro Beato, who is suffering from inflammation in the rotator cuff in his right shoulder, may throw on Sunday to test how he feels.