Johan Santana continued his road back from Sept. 14, 2010 surgery to repair a torn anterior capsule in his left shoulder, tossing 2 2/3 uneventful innings in Sunday's Grapefruit League game against the Miami Marlins at Digital Domain Park.
The Mets, and Santana, had been curious how the southpaw would settle into an every-five-days routine, so Santana's ability to make the start without complication was of primary importance.
Santana allowed two hits and a walk in a 42-pitch effort that included 22 strikes. He departed after a four-pitch walk to Hanley Ramirez in the third inning that loaded the bases, although Santana thought he was squeezed during that confrontation.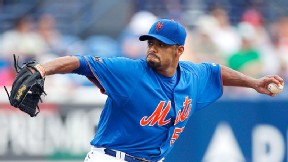 Patrick Semansky/Associated Press
Johan Santana pitches during the first inning of Sunday's game against the Miami Marlins.
Chris Schwinden entered for Santana and plunked Giancarlo Stanton in the left wrist, forcing in an unearned run charged to Santana and forcing Stanton from the game with what the Marlins called a contusion. Gil Velazquez had reached on an error by third baseman Ronny Cedeno and center fielder Adam Loewen failed to come up with a sliding catch on a sinking liner by Bryan Petersen earlier in the third.
Ramirez had the other hit -- a first-inning double.
As was the case in his first Grapefruit League start, Santana's fastball mostly sat in the 87-88 mph range, although he touched 90 mph a handful of times, and as low as 86 mph in the final frame. As was the case in his first outing, when he fooled Yadier Molina with a changeup, the pitch worked at times Sunday too -- including on a swinging strike by Emilio Bonifacio in the third.
"That was a good one," said Santana, who threw his changeup and slider more frequently than in his first start.
As for velocity, and the differential in speed between his fastball and changeup, Santana has downplayed radar readings.
"You'll see it out there when they swing and miss," Santana said. "It's all about them -- the way they approach, the way they swing. It's not about how hard or how slow you throw a pitch. I felt pretty good."
He nearly departed after two innings as the rain fell and Schwinden warmed up, but the rain eased and the Mets sent Santana out for a third inning. The skies then opened up again with the southpaw on the mound.
"Even before the game, they had everything planned out that by the time I had to go out there, if there was a little bit of rain, I was just going to go out in the cage and throw a bullpen instead of going in the game," Santana said. "They didn't know. But in that third inning, the weather started getting worse as I was pitching. It wasn't bad right at the beginning of that third inning."
Assuming Santana remains on his every-five-days Grapefruit League schedule, he next would face the Detroit Tigers on Friday in Port St. Lucie.
"Now, I have to it every five games, and that's what I'm focused on right now," Santana said. "And throwing my bullpen in between is definitely something we're working on. And so far it's been good. ... Definitely I think Friday will be my next time out there."
Terry Collins expressed full confidence the southpaw would be ready for Opening Day, although Santana is looking no farther than Friday -- if that far.
"We're still building up pitches," Santana said. "I think once we get 80 to 90 pitches, and do it every five days, that's when we'll say we're good."
Said Collins: "I truly believe we're going to do this right and Johan Santana will be on this team Opening Day. As he increases -- basically his next start you add 15 [pitches] to today -- and he's at 60 to 65 his next time out. The next time out he'll probably be 80. That's when you start to see the effects of how he's going to be in two days."