Batters did not want to see Sandy Koufax on the mound during the left-hander's Hall of Fame career.
The trustee suing Fred Wilpon and family for $386 million on behalf of victims of Bernard Madoff's Ponzi scheme does not want to see Koufax in the witness box, either.
In a slew of motions filed Monday night, trustee Irving Picard's legal team asked that Koufax and three other high-profile figures be barred from testifying for the defense in the 10-day trial set to begin next week.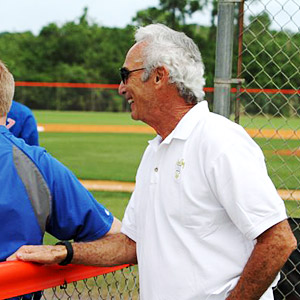 Courtesy Bruce Adler/New York Mets
Sandy Koufax at Mets camp on Thursday.
The trustee's motion asks to exclude Koufax as well as former district attorney Robert Morgenthau, North Shore-LIJ Health System president Michael Dowling and First Long Island Investors CEO Robert Rosenthal from testifying for the Wilpons.
Wilpon and Koufax are friends dating to their high school days, when they were baseball teammates. Koufax visited the Mets' spring-training complex as recently as last week.
"In identifying their expected witnesses, the defendants have disclosed their intentions to call certain of their most prominent acquaintances and philanthropic colleagues at trial," the trustee's attorneys wrote in one motion. "There is no other purpose for calling such witnesses except to improperly influence the jury. The expected testimony from the proposed Sterling [Wilpon] witnesses has nothing to do with the only issue to be tried in this case -- defendants' willful blindness. Not only is such testimony irrelevant, but it is impermissible character and opinion evidence masquerading as testimony from purported fact witnesses."
U.S. District Court Judge Jed S. Rakoff already has awarded up to $83 million to Picard -- the profits collected by the Wilpons and their businesses and charities in the immediate two years before Madoff's arrest. Picard now seeks at trial an additional $303 million in principal that the Wilpons invested with Madoff. He must prove the Wilpons were "willfully blind" to Madoff's fraud and that they acted in bad faith with respect to their investments in order for a jury to award that additional sum.
Rakoff has expressed skepticism that Picard can prove that threshold, but he allowed the case to go to trial by rejecting last week a defense motion to toss the lawsuit. Jury selection begins next Monday.
The trustee also asked in a flurry of Monday motions that references to his fees as well as the failure of the Securities and Exchange Commission to detect Madoff's fraud be barred from being discussed at trial by the defense team.
Wrote Picard's legal team with respect to his fees: "The trustee anticipates that the defendants will seek to introduce evidence relating to, or otherwise make comments concerning, the fees paid to the trustee and his counsel in an attempt to distract the jury from the trial and otherwise imply that the trustee's action is solely driven by his fees and those of counsel. All such evidence and any references thereto should be excluded because the fees paid to the trustee and his counsel are not relevant to any issue at trial.
"Indeed, this court rejected the defendants' attempt to depose the trustee on the fees paid to him, among other matters, because of lack of relevance. Even if such evidence were somehow relevant, any theoretical 'probative value' would be substantially outweighed by the danger of unfairly prejudicing the trustee and misleading and confusing the jury about the central issue at trial -- the defendants' willful blindness to Madoff's fraud."