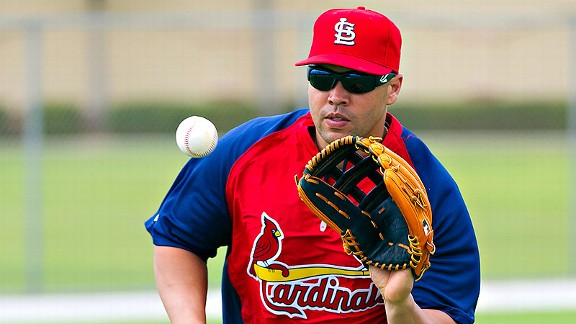 Scott Rovak/US Presswire
Carlos Beltran signed a two-year, $26 million deal with the St. Louis Cardinals after completing last season with the San Francisco Giants and missing the playoffs.
Carlos Beltran spotted a $5 bill on the floor in the visitors' dugout at Digital Domain Park, picked it up and handed it to a reporter.
"Give it to Niese," Beltran kidded, referring to former teammate Jon Niese. "He needs it."
Beltran, dealt by the Mets last July for top-prospect Zack Wheeler, will face his former employer for the first time since the trade Tuesday afternoon in Grapefruit League action, batting third and playing right field. Beltran signed a two-year, $26 million deal with the St. Louis Cardinals during the offseason.
Before last summer's trade, Beltran told Niese he would pay for cosmetic surgery. Niese took him up on it during the winter and had a roughly $10,000 procedure.
Beltran sounds like he eventually will pay up, but he would like to drag it out a little longer to "make him suffer."
"How's his nose look?" Beltran asked New York reporters.
A little better, Beltran was told.
"A little bit? … So should I pay? Should I not?"
As for the state of the Mets, Beltran did not take jabs at his former organization, despite mistreatment including the Walter Reed Army Medical Center flap, when he was outed for not attending, and the controversy over whether he had permission to have knee surgery.
"There were a lot of ups and downs personally," Beltran said. "We had good teams, but we weren't able to put it together and take it to the next level and try to win a championship. I had the opportunity to play with good players, opportunity to be around good people. So I really enjoyed it."
As for the Mets' future, Beltran said the window for winning probably isn't immediate.
"Every team has a different mentality," Beltran said when asked about the Mets' $52 million payroll drop. "Right now, I think, they're going a different direction. I don't know if that's something the Mets fans want to see, but that's where they're heading right now. They're going young. They want to see what they've got in the minor league system. They want to the younger guys to play the full season to see what they've got. Like I said, it's a different direction they're going. But I don't think they're going in a bad direction. They're trying to develop their own players.
"They're going young, but they have talent. They still have talent. It's going to take time. They're going to go out and compete. They're professional ballplayers. I don't really discard them out of anything, because in this game you never know."
On his replacement in right field, Lucas Duda, Beltran said: "I think he's going to be a great, great player for the Mets. I think he has the potential to go out there and compete and put up good numbers. He has the power. He has the talent. It will depend on him, how he approaches the whole year playing in the big leagues and making adjustments. But they have a good group of people there, good coaches, and they're going to take care of him."
Beltran also helped Andres Torres on his swing during the second half of last season when they were teammates in San Francisco.
When reporters inquired about how he had advised Torres immediately after a question about how he mentored Duda, Beltran quipped: "Wow, I've been helping a lot of people."
More seriously, he said: "Torres is a great guy. Torres is fun. It's fun to watch him go after it out there. He has a lot of energy, a strong human being. For him, I think, if he keeps things simple he will have a good season. Sometimes he complicates himself too much, thinks about it too much and second-guesses himself too much. Playing in New York is going to be a challenge for him, I bet. But I think he prepared himself well this offseason and he's going to be good. … The most important thing is he hustles, he plays hard. So I think fans are going to love him."
Beltran insisted he was not curious about the fan reception Tuesday afternoon. Bottom line, it has to be better than Houston, when he was lustily booed for years and years after defecting from the Mets.
"I only played in Houston half a year," Beltran said. "Here I spent six and a half, so let's see."
Beltran added that his surgically repaired knee now feels fine.
"I feel great," Beltran said. "I'm happy. I'm doing the whole workout like everyone else does. Last year for me was a little bit uncomfortable because I came to spring training and I was wondering what was going to happen. This year I've been doing everything, and thanks to God I feel good."
As for what he misses about New York, he first identified the women in the kitchen who prepare food for the players and who treated him "like their own son."
"Another thing that I miss is being able to play in a big city," Beltran added. "Honestly. For me, I went through a lot of ups and downs, but I personally feel I had the best year of my career here in New York, even though we didn't win a championship. I personally feel it was a good experience for me."