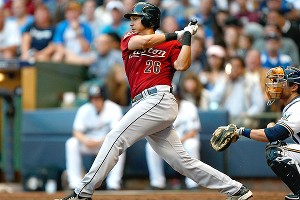 Scott Boehm/Getty Images
Oswaldo Navarro, most recently of the Houston Astros organization, signed a minor league deal with the Mets.
The Mets have signed infielder Oswaldo Navarro to a minor league deal to provide organizational depth.
Navarro, 27, hit .267 with two homers and 31 RBIs in 315 at-bats with Triple-A Oklahoma City in the Houston Astros organization last season. He appeared in a combined 18 games with the Seattle Mariners in 2006 and Astros in 2010, hitting .130.
In the minors, Navarro has played 593 games at shortstop, 240 games at second base and 112 games at third base.