Five days after undergoing surgery to repair torn meniscus cartilage in his left knee, Tim Byrdak returned to the Mets spring-training clubhouse and predicted a quick return. Byrdak, walking with ease, said he would resume tossing a baseball by the end of the week. He called Opening Day a "long shot," but also said the six-week return time outlined by Sandy Alderson seems far too conservative.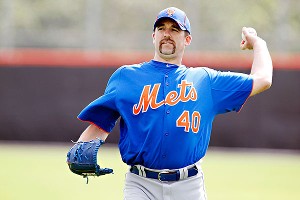 Jeff Roberson/Associated Press
Tim Byrdak returned to camp Sunday, five days after undergoing surgery to repair a torn meniscus in his left knee.
Byrdak was already walking around his hotel room the night of the surgery Tuesday without crutches.
"I'm happy with the progress I made so far," Byrdak said Sunday morning. "Now it's just a matter of getting some strength in there, some mobility ... and seeing where it takes us. The tentative schedule right now is to start picking up a baseball Friday. I haven't talked to Dan [Warthen] or TC [Terry Collins] about Opening Day or anything like that. It's not going to take me much to get ready. It's how the knee responds. I've never, from the get-go, said Opening Day is out of the question, knowing the time frame from what I got when I first went under the knife. It's a long shot, but it's a possibility. Six weeks, to me, that's a little bit too much. Again, it all depends on how the knee reacts.
"I think that [six weeks] is just a safe precaution that they use. Different guys react differently. There wasn't a lot of swelling post-op. I'm moving around pretty good right now."
After results of an MRI exam came in last Monday at the Hospital for Special Surgery in Manhattan, Byrdak had a night to decide whether to undergo the procedure or pitch the season with the torn meniscus and get it repaired afterward. He opted for the procedure. He recalled gutting through the 2010 season with the Houston Astros with a sports hernia and it hampering his performance, and did not want a repeat this season with the Mets, especially considering how much the Mets will lean on him this season.
"I didn't have fun," Byrdak said about playing two seasons ago with an injury rather than opting for surgery right away. "It was a grind every day and I never felt like I was 100 percent. And I didn't want that feeling here, especially when they told me I could be on a mound in two to three weeks. We decided, 'Hey, you know what? We have the time now in spring training. Let's go ahead and get this thing done.'"
The Mets do not have another bona fida, major league-ready lefty specialist. Garrett Olson is likely the frontrunner for the role in Byrdak's absence, followed by Chuck James. Josh Edgin is now in major league camp, but Warthen has suggested he is more of an in-season consideration for a call-up. Daniel Herrera is the fourth left-handed reliever still in camp.
"That's why I pushed to get down here a little bit sooner, to get a little bit more aggressive in the rehab," Byrdak said, "and see if we can push the envelope a little bit and get back sooner."