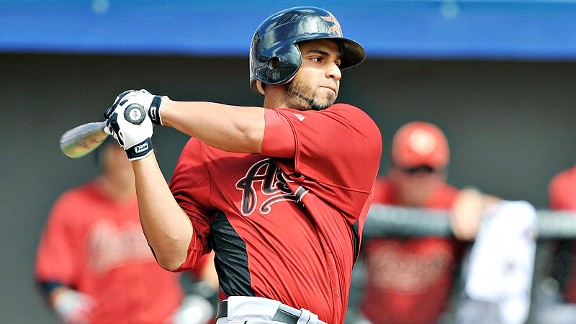 Brad Barr/US Presswire
The Mets removed Fernando Martinez from the 40-man roster in January and lost him off waivers to the Houston Astros.
Fernando Martinez expressed surprise but not bitterness at the Mets' offseason decision to remove him from the 40-man roster, which resulted in the one-time top prospect being claimed off waivers by the Houston Astros.
Martinez was the first major international signing by Omar Minaya's regime. He agreed to a $1.3 million bonus in 2005 as a 16-year-old out of the Dominican Republic.
"I was home. My agent called me and said, 'The Mets put you on waivers,'" Martinez recalled Sunday morning, before starting in left field for the Astros in a Grapefruit League game against his former club. "That's surprised me because I never thought about that."
Still, asked if the Mets were in the wrong for writing him off, Martinez was respectful.
"No, no, no," he said. "I don't feel like that."
#50 RF
Houston Astros
2011 STATS
GM

11

HR1

RBI2

R3

OBP.261

AVG

.227
Because Martinez had a minor league option remaining, the Mets could have stashed him at Triple-A Buffalo this season without complication, as long as they were willing to devote a 40-man roster spot to him. Instead, they removed Martinez and Daniel Herrera in January when they needed roster spots for Scott Hairston and Ronny Cedeno. Herrera cleared waivers and decided to stick with the organization.
Martinez, now 23, has been tormented by chronic knee discomfort during his professional career. In fact, between the majors and minors, Martinez had appeared in only 459 games with the organization since beginning play in 2006 -- an average of 77 per season.
Martinez said his knees have felt somewhat better this spring training because he arrived at camp 15 pounds lighter. Still, he acknowledged, the joints are fickle, and some mornings do not feel as good as others.
He has split time between the corner outfield spots in Houston's camp, but said he feels mobile enough right now to play center field if asked.
Martinez, in part because of the option remaining, is not a favorite to claim the lefty-hitting, backup outfielder role. Jack Cust, who signed a non-guaranteed major league deal, had been the frontrunner entering Astros camp. But he is 0-for-20, has been unable to play the field because of an elbow injury and is a release candidate. Travis Buck has emerged as the most likely to win the backup lefty-hitting outfield spot. J.B. Shuck also is a consideration.
Martinez entered Sunday's game hitting .222 with a homer and three RBIs in 18 Grapefruit League at-bats.
The Mets obviously thought Martinez's degenerative knees were never going to allow him to contribute at any notable level in the majors in order to deem him less valuable than other players who remained on the 40-man roster through the offseason. Still, the Mets might have been able to use Martinez off the bench in a part-time role that would have allowed him to keep his knees manageable. Adam Loewen and Mike Baxter currently are vying for that lefty-hitting backup outfield role with the Mets.
"If he was here, yeah, he would have been a contender for the spot," Terry Collins said. "He's still got a chance to hit the ball out of the ballpark and can be a dangerous hitter. It's just you can't get him out there and keep him out there. I hope he's healthy and has a long career, but it was always scary to think that when you called down [to Triple-A] to find out how he's doing, you always found out he wasn't playing."
Said Martinez: "It's a new start for me. I spent a lot of time with the Mets. Now, it's time to change the page. ... I appreciate the Mets giving me the opportunity to play in the majors, to work with me, because I had a lot of injuries in the past. But I'm very happy for now, because I feel good. A new start with a new team."