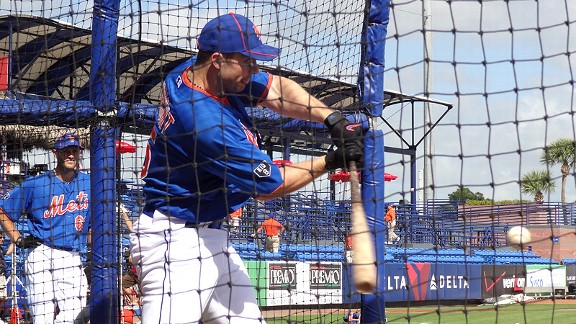 Adam Rubin
David Wright takes batting practice before Thursday's Mets game against the Houston Astros.
For the first time since getting shut down with an abdominal strain and receiving a cortisone shot, David Wright took batting practice outdoors with teammates Thursday. Wright looked very comfortable, which a scout watching from the stands also observed.
"I thought Wright's swing was really good," the scout said. "Quick and compact. Drove ball. Made good sound. I would feel encouraged. That's the best sound I heard anybody make on either team."
Said Wright: "I've been in the cage for a little bit of time now. Today was the next step in going on the field, because it's a little more energy. You exert a little more. I felt good and am headed in the right direction. I did a full day with the guys. I need to probably do that for a few more days. At least in my eyes, this was kind of like the first day for me of spring training of going through everything from stretch to the conditioning."
Wright is even making full throws across the diamond.
"I feel about as good as I'd feel, I guess, picking up a bat for the first time in a few weeks," Wright said. "Hopefully it gets better from here result-wise. But just being out there and being able to go through a full day and a full round of batting practice and not feeling anything, that's pretty good."