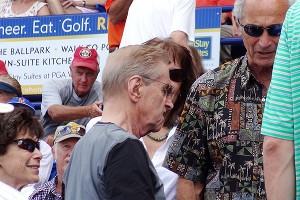 Adam Rubin
Fred Wilpon departs Thursday's game with Sandy Koufax.
Fred Wilpon was accompanied by brother-in-law Saul Katz as well as Hall of Famer Sandy Koufax in the stands behind home plate to watch Thursday afternoon's game against the Houston Astros at Digital Domain Park.
Koufax had been prepared to testify on behalf of his former high school teammate had the clawback lawsuit against Wilpon not been settled.