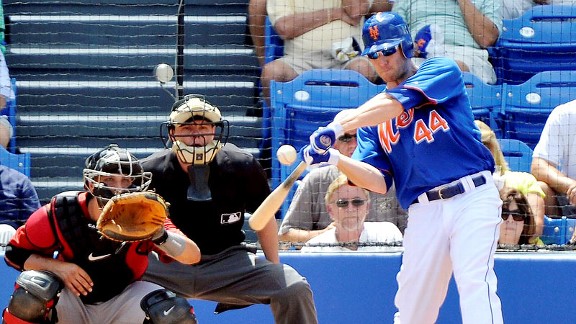 Brad Barr/US Presswire
Jason Bay bats during Thursday's game against the Astros. Bay went 1-for-3 with a walk, stolen base and run scored.
R.A. Dickey took a no-hit bid into the sixth inning and the Mets beat the Houston Astros, 8-2, Thursday at Digital Domain Park.
Dickey said he only became aware he had held Houston without a hit when the crowd began applauding once the knuckleballer allowed a single to the second batter he faced in the sixth inning, Justin Ruggiano. The no-hit bid had been preserved an inning earlier when third baseman Lucas May made a diving stop toward the line on Jason Castro's grounder and threw to first base in time.
Dickey ultimately allowed one run while walking three, surrendering just the one hit, and striking out four in 6 1/3 innings.
The Mets -- who have had no in-season no-hitters -- tossed one in spring training in 1965, by Gary Kroll and Gordie Richardson. (Howie Rose notes that Richardson was the last player to wear No. 41 with the Mets before Tom Seaver.)
"I just wanted to feel good getting up and getting back down," said Dickey, whose last outing was cut short a week earlier after two perfect innings because of a rain delay. "Part of the process of this is, 'How do you feel after you've sat down and gotten back up to go out there after the fifth and sixth innings?' I got to do that today and I'm glad about that."
As for when he became aware of the no-hit bid, Dickey said: "I did once people were clapping [following the single]. I was like, 'What are they doing?' And then I saw. … Usually, like last year, after the sixth I knew it on a couple of occasions -- or maybe one occasion in particular late in the season. So I'm not saying I'm totally [unaware]. But it's spring training and it's just kind of a different atmosphere. I was executing what I wanted to do and that was most important to me, so I didn't really think about it."
Dickey's performance came a day after Johan Santana limited the St. Louis Cardinals to one run and six hits in six innings. The day before that, Dillon Gee did not allow a run in 5 2/3 innings against the Washington Nationals.
"I think having Johan kind of as the figurehead of the staff, it may take some pressure off some guys that don't feel like they have to do more than they're capable of doing," Dickey said. "It allows people to slot where they maybe need to slot."
Said Terry Collins: "I always thought coming in, just because we don't have a lot of big names, those guys kept us in a lot of games last summer."
• Ruben Tejada, in his second game since returning from a groin strain, delivered a first-inning solo homer off Wandy Rodriguez.
Tejada has only one homer in 544 major league at-bats over two seasons. And Collins said it's almost bad news that Tejada went deep Thursday, since he does not want the slightly framed shortstop getting seduced into changing his approach and seeking long balls.
"He's an awful good hitter. He's got more deceiving power than people think, even though he hasn't hit home runs in the major leagues yet," Collins said. "All the guys in the minor leagues, they tell me about the game they saw when he was 19 years old, he hit a home run off some guy who was throwing 97 mph. And he hit it over the railroad tracks in Binghamton [well beyond the left-field wall]. We know he's got some power. But I don't want him to think for a second he's hitting homers."
• Closer Frank Francisco allowed four straight hard-hit balls in the ninth inning and surrendered a run on two hits to lift his Grapefruit League ERA to 6.43.
"I wish I could tell you how many times I've seen closers in spring training, when there's no adrenaline, have a day like that, because all they're doing is getting their work in, trying to throw the ball in the strike zone," Collins said, dismissing the spring-training results. "They live on that edge. And when that edge isn't there, they can get hammered. But I'm not worried about him at all."
• Depleted at center fielder with Andres Torres (calf), Scott Hairston (oblique) and Kirk Nieuwenhuis (oblique) all injured, Collins placed Jordany Valdespin at the position for the eighth inning. The first ball in play went directly to him. Valdespin caught the fly ball off the bat of Castro after twisting around.
Collins said he likely would use Valdespin again in center field during the second half of Friday's game at Disney against the Atlanta Braves.
Once the immediate need passes, however, assuming Torres and Hairston come back, Collins does not believe Valdespin will get exposed to the outfield during the early regular season at Triple-A Buffalo.
"I want him to play where he's most comfortable," Collins said. "I don't want to put a guy in a situation, who is a young player, playing out of position. And all of a sudden he's so worried about his defense, because he's playing center field, that one of the things he does real well -- hit -- all of a sudden his batting average goes down. And you call down and they say, 'Well, he's not hitting.' I want him to play where he's comfortable."
• Prospect Josh Edgin, in consideration for the lefty specialist role until Tim Byrdak returns from surgery to repair a torn meniscus in his left knee, was inserted to face lefty-hitting Travis Buck after Dickey departed. Edgin coaxed a flyout to center field, then retired the ensuing righty batter as well.
• Rhiner Cruz, a Rule 5 pick by the Astros from the Mets, entered with the bases loaded and two out in the fourth for Rodriguez and struck out May on a 94 mph fastball. Cruz, who may be offered back to the Mets within two weeks, retired all four batters he faced.
• Fernando Martinez faced his former club for the third time this spring training and went 0-for-1 off the bench.
• Rodriguez issued bases-loaded walks in two different innings, resulting in runs for the Mets. Houston later forced in another run with a balk. Omar Quintanilla drove in three late runs for the Mets with a bases-loaded double.
• Collins expects David Wright to have as many as three additional days repeating Thursday's activity that included batting practice before getting into a game. So Wright's first game could come as soon as Monday as he works back from an abdominal strain.
• Collins acknowledged Mike Pelfrey came into camp with a sprained ankle. Pelfrey next pitches Saturday against the St. Louis Cardinals in Port St. Lucie and has not missed any pitching duty. "He came into camp ready to do whatever we needed done," Collins said. "It was bothering him a little bit off and on. The other day he said he felt great, actually was able to push off, and it should not have been a factor. But, yeah, he's had one."
• Matt Harvey will pitch Sunday's major league game against the Nats at Viera, while Gee will pitch in a minor league game instead. Collins wanted to shield Gee from the Nats, since the right-hander will face them in Game 5 of the season, and already has seen Washington twice in the Grapefruit League.
• Matt den Dekker, who started in center field for the Mets on Thursday, was unsure how to react to the Jets' signing of Tim Tebow. Den Dekker is a fifth-round pick in 2010 out of the University of Florida, but also a devout Miami Dolphins fan. "I don't like the Jets, so I don't know," den Dekker said.