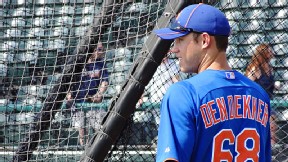 Adam Rubin
Matt den Dekker takes batting practice before Friday's game against the Braves at Disney.
Center fielder Matt den Dekker officially has returned to major league camp. The Mets made the move because of injuries to Andres Torres and Scott Hairston. Triple-A center fielder Kirk Nieuwenhuis (oblique) is sidelined in minor league camp as well.
"You don't really expect that to happen," den Dekker said about the official return to major league camp. "Obviously with Andres going down they need another outfielder over here. Whatever they ask me to do over here, I'll be ready to do it."
Den Dekker, 24, combined to hit .265 with 17 homers, 68 RBIs and 24 steals in 539 at-bats last season between Class A St. Lucie and Double-A Binghamton. He struck out 156 times.
"Obviously put the ball in play more," den Dekker said about an area of concentration in order to reach the next level. "I struck out a lot last year. I'm still working on that -- talking about approach and getting the right pitch to hit and working the count and all that. I'm working on that a lot."