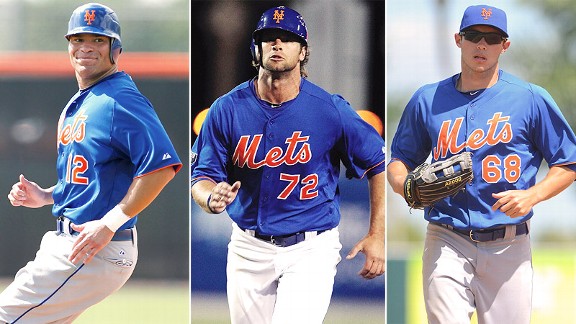 Associated Press/Getty Images
Sandy Alderson outlined the alternatives to Andres Torres in center field as Scott Hairston, then Kirk Nieuwenhuis, then Matt den Dekker.
Sandy Alderson called Andres Torres' availability for Opening Day "touch and go" because of a left calf strain. The GM resolved, though, that the Mets will have a credible center fielder manning the position April 5 against the Atlanta Braves at Citi Field, not a novice learning the position. Scott Hairston is viewed as the primary alternative to Torres as the start, followed by Kirk Nieuwenhuis and then Matt den Dekker.
"We want to have a center fielder when we go north," Alderson said.
Hairston and Nieuwenhuis have their own injury issues, but are further along in their recovery than Torres, who only rode an exercise bicycle and received treatment Saturday.
Hairston, who has yet to appear in a Grapefruit League game because of a strained left oblique muscle, plans to take batting practice for the first time Sunday after swinging in a cage Saturday. Nieuwenhuis also is nursing an oblique injury and is currently in minor league camp. Alderson said Nieuwenhuis could be in minor league games by midweek.
Den Dekker has only a half-season of Double-A experience and would be the fourth option at the position. He is the only one of those four candidates not on the 40-man roster, which is an issue. Yet den Dekker is the only one of those players currently healthy. He played all 10 innings in Saturday's game against the Cardinals and went 0-for-3 with two walks, dropping his Grapefruit League average to .136. Yet if Opening Day happened to be now, Alderson all but suggested the 2010 fifth-round pick would be starting in center field at Citi Field.
Den Dekker twice has appeared on ESPN's top-10 plays of the day, for a catch in the College World Series with the University of Florida, and for a similar grab during a Grapefruit League game last spring training. At the plate, though, he struck out 156 times in 539 at-bats between Class A St. Lucie and Double-A Binghamton in 2011. Without quick corrections, that would be a major concern against more-sophisticated major league pitching -- both because of the quality of those pitchers and because of video and other scouting that would expose his holes.
"One of the reasons he probably struck out too much is he missed some pitches he should have hit early in the count," hitting coach Dave Hudgens said. "He dropped his barrel a little bit, gets a little bit of length [with his swing]. We're doing some things to kind of close him up a little bit and try to get him on top of the baseball. … And then it's a matter of recognizing some pitches. He swings at some breaking balls in the dirt. We've got to get him to recognize spin down."
Can that be remedied in the 12 days before Opening Day?
"It's something that's going to take time," Hudgens said. "It's not going to be done before the season starts. If he goes back to the minor leagues, it's something that's going to be developed and will be OK. If he stays here, it's something we'll work on."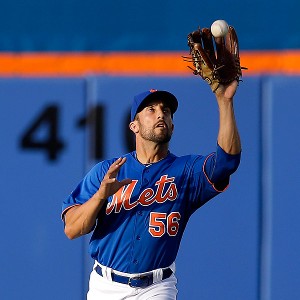 Patrick Semansky/Associated Press
Andres Torres' calf injury, suffered Tuesday, has thrown the position into uncertainty.
Den Dekker -- who was sent to minor league camp in the first round of cuts, then pulled back eight days later -- would not be a consideration right now if Nieuwenhuis had a healthy spring training. But the 24-year-old Nieuwenhuis had only 10 Grapefruit League at-bats before straining an oblique.
Nieuwenhuis has demonstrated a proficiency at hitting at a higher level than den Dekker. He hit .298 with six homers and 14 RBIs at Triple-A Buffalo last season before requiring surgery for a torn labrum in his right, non-throwing shoulder. Doctors placed three anchors in the front and one in the back of the labrum. Nieuwenhuis' season ended June 9, so he has been absent from high-level competition for some time. Both den Dekker and Nieuwenhuis bat left-handed.
Alderson said Nieuwenhuis could be in games by midweek on the minor league side.
Nieuwenhuis is a former third-round pick in 2008 out of Azusa Pacific, who was recruited by major programs including Colorado and Colorado State to play college football. He has that type of build and mentality. Big for a center fielder, the 6-foot-3, 215-pound Nieuwenhuis is known for his aggressiveness tracking fly balls, including fearlessly into the wall.
"He played really, really well," Mets VP Paul DePodesta said about Nieuwenhuis' Triple-A showing last season before the injury. "I think he was having a terrific year. And he continued to get better with each and every year. As he moved up levels, he got a little more productive, which doesn't happen very often. You just don't see it very often. Obviously there's a relatively significant layoff, because he missed the last couple months of last year and then was coming in at the beginning of this year. But he certainly has the physical tools. He's just going to have to be ready for the speed of the game."
If Hairston were ready for Opening Day and Torres on the DL, the Mets would not need to carry Nieuwenhuis or den Dekker. Instead, they could go with more of a novice backup center fielder behind Hairston, such as Mike Baxter or Adam Loewen.
Infielder Jordany Valdespin will get his first start in center field on Sunday against the Washington Nationals, Terry Collins said, although Alderson's remarks make it clear that if Torres and Hiarston are not available, the Mets will carry Nieuwenhuis or den Dekker -- a legitimate center fielder -- and not dabble with novices for the starting role.
"There are a lot of different variables here," Alderson said. "We'll just have to wait and see how they play out."
Meanwhile, Torres' unavailability at the start of the season would have ramifications for the lineup as well. Torres was slated to lead off. Collins mentioned Ruben Tejada as the alternative. (The manager previously had floated Daniel Murphy as a leadoff candidate as well.)
As for Torres' calf, Collins said: "He's not a whole lot better."