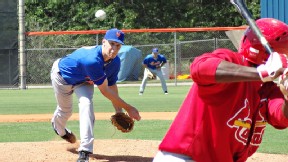 Adam Rubin
Top prospect Zack Wheeler faced the Cardinals' Double-A team last Saturday, then injured his left ankle a day later.
Top prospect Zack Wheeler, who was scratched from a minor league start with a left ankle sprain that the team said he suffered on a staircase, reported the injury is behind him.
"Threw a bullpen today and hit BP," Wheeler tweeted. "Felt great."
What else did Wheeler do on Saturday.
"Family is in town," he also tweeted. "Just killed some chili's. And now sitting out by the pool."