The head-to-head battle between Miguel Batista and D.J. Carrasco for one bullpen spot apparently won't be an issue after all. Carrasco's right ankle is not responding, and he is likely to land on the disabled list to open the season. Batista is "pretty solid" for that spot, a team official told ESPNNewYork.com. The only real alternative consideration would be Chris Schwinden, but he is better served pitching every five days at Triple-A Buffalo in the rotation.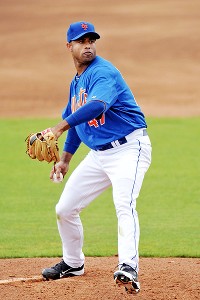 Steve Mitchell/US Presswire
Miguel Batista should round out the Mets' bullpen.
The only real debate at this point is for the lefty specialist in Tim Byrdak's absence. A team official said it is legitimately undecided whether Garrett Olson or prospect Josh Edgin gets the spot. Daniel Herrera also is in camp.
The bottom line, though, is that Byrdak is expected to miss a minimal amount of the season -- potentially as little as the opening series, since you can backdate disabled list stints 10 days into spring training. Byrdak underwent March 13 surgery to repair a torn meniscus in his left knee.
So the Opening Day bullpen should look like this:
Frank Francisco, closer
Jon Rauch
Ramon Ramirez
Manny Acosta
Bobby Parnell
Batista
Olson/Edgin
The Mets will need to make a semi-official call on Batista five days before Opening Day, when he must be told he is making the roster or be paid a $100,000 retention bonus to avoid becoming a free agent.
In five Grapefruit League appearances, the 41-year-old Batista has a 7.04 ERA and has allowed 12 hits and three walks while striking out three in 7 2/3 innings.
• Scott Hairston took a step forward toward being available for the Opening Day roster. Hairston, who is returning from a strained left oblique muscle, tracked 20 pitches and then took 20 swings in a batting practice session Sunday morning. He twice cleared the left-field wall. He then worked out in center and right field.
• David Wright hit off left-hander Robert Carson and right-hander Michael Powers, according to Newsday's David Lennon. He should enter the lineup no later than Tuesday.
• Corey Wimberly, who signed as a minor league free agent during the offseason, fractured the fifth metatarsal in his left hand in a collision with Cory Vaughn during Friday's Grapefruit League game against the Atlanta Braves. Wimberly, 28, is expected to miss five weeks. He hit .238 in 172 at-bats with Pittsburgh's Triple-A affiliate last season while manning second base and all three outfield positions.