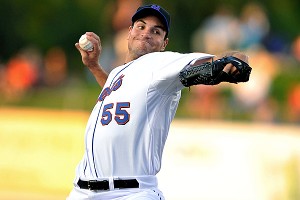 Brad Barr/US Presswire
Chris Young will re-sign with the Mets, a team official confirmed.
Right-hander Chris Young, who made four solid early season starts for the Mets before undergoing surgery to repair a torn anterior capsule in his right shoulder, is close to re-signing on a minor league deal.
Young underwent the procedure -- the same as was performed on Johan Santana -- on May 16, 2011, but apparently has been progressing well so far. That's eight months after Santana's surgery. Young, 32, clearly would not be able to contribute at the beginning of the season as a result.
He was 1-0 with a 1.88 ERA in 24 innings, allowing 12 hits and 11 walks while striking out 22.