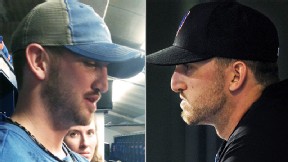 Adam Rubin
The new-look Jon Niese (left), after rhinoplasty procedure. Before picture on the right.
Before being traded last July, Carlos Beltran offered to pay for a nose job for Jon Niese. Now a St. Louis Cardinal, Beltran has finally footed the bill.
Niese received the $10,000 payment from Beltran, the southpaw confirmed.
Niese originally underwent the rhinoplasty procedure in October for cosmetic reasons, but said it actually has dramatically helped his breathing.