Days after officially agreeing to a minor league contract, right-hander Chris Young arrived in Mets camp Wednesday and indicated he is all but ready to throw batting practice to hitters, 10 1/2 months after surgery to repair a torn anterior capsule in his right shoulder.
"That will be the next test -- to face hitters and see how it recovers and how it bounces back," said Young, who has a four-plus-inch scar on the front of his right shoulder.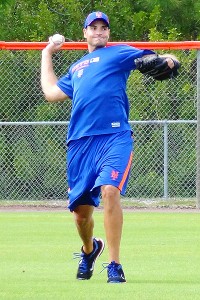 Adam Rubin
Chris Young tosses at the Mets' complex Wednesday afternoon, after arriving in camp.
Young said he has rehabbed from the May 16, 2011 procedure without a hitch, including throwing off a mound nine times. He has traded texts of encouragement with Johan Santana, who had the same surgery, throughout the process.
Young continuously has been working out in San Diego with Mark Prior, who previously had the procedure. More recently, they have worked together under the watchful eye of Tom House in Los Angeles. Young said the 31-year-old Prior, who made 11 minor league appearances for the Yankees last season and last appeared in the majors in 2006, also is progressing and is ready to sign with an organization.
"I'm excited for him," said Young, who noted Prior is preparing to be a reliever, unlike him. "When he had it, it was tough. He had multiple things done in his shoulder at the same time. It wasn't just the capsule. So I don't think it's a fair comparison. I don't think you can compare any two people who have gone through a shoulder surgery. That's one thing I've learned as well."
Young earned $1.1 million last season in base salary. This time, he will receive a nominal salary while in the minors and have contract outs on June 1 and July 1 if he is not in the majors by then. If he's added to the major league roster, the contract structure would be similar to last year, with a low base salary and performance incentives based on workload.
Terry Collins said a team never goes wire-to-wire with five starters, and that's especially likely with the Mets since Santana is in relatively unchartered territory. Furthermore, the manager said, other than R.A. Dickey, other starters could use extra rest during the summer, so a six-man rotation is realistic once Young is ready.
Young said he waited until this point because he is ready for a more-structured environment, such as the opportunity to face batters. The Mets, for whom he made four starts last season before undergoing the procedure, were the natural team with which to sign, he noted.
"As far as timing goes, I wasn't at a point to come into camp and compete for anything. My arm wasn't ready for that," Young said regarding a standard offseason signing. "I was still in the middle of the rehab process and I didn't want to get ahead of myself. You get in a baseball environment, you start pushing things and I didn't want to be in that situation. I wanted to make sure that when I signed, it was the right timing for my shoulder recovery, because that's the most important part.
"As far as being back here, it was a natural fit. My relationships with the guys, the team. I felt like I got shortchanged last year as far as not being able to fulfill my contract and help the club. And I love the bunch of guys."
Young said he would likely take a little more time between workouts than your normal spring-training pitcher -- say, wait five days after throwing batting practice to do another intensive throwing activity instead of two days. But he said the shoulder feels fine under the circumstances. He does expect to pitch in extended spring training and Florida State League games in Port St. Lucie.
In addition to Santana and Prior, Young identified Chien-Ming Wang, Dallas Braden and Rich Harden as among the handful of others who have underwent surgery to repair torn anterior capsules.
"It's something that you're seeing more and more," Young said. "[The injury] might not be happening any more frequently, but I think they're diagnosing it and seeing it now, where in the past it was undiagnosed. The last three years you can name a handful of pitchers who have had it. Beyond that, I don't think you can name two guys who have had it. They're diagnosing it more. Who knows? Maybe it will prolong a lot of our careers."