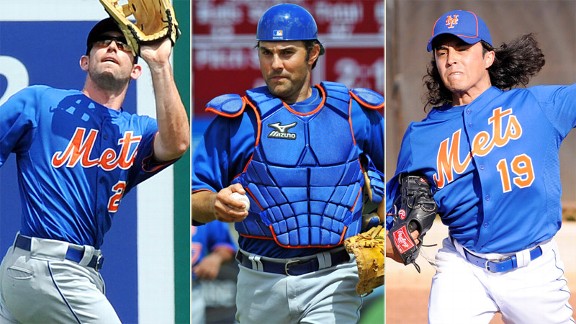 US Presswire
Mike Baxter, Mike Nickeas and Daniel Herrera (l to r) look like they're heading toward the Opening Day roster.
Mike Nickeas has claimed an Opening Day roster spot, Terry Collins confirmed, while Mike Baxter has moved very close and Daniel Herrera has an inside track for the Opening Day roster.
Collins acknowledged the only disruption for Baxter as lefty-hitting backup outfielder would be a late acquisition from outside the organization. As for Herrera, that appears contingent upon Tim Byrdak being ready for next Thursday's season opener against the Atlanta Braves at Citi Field.
Byrdak threw a bullpen session for a second straight day Thursday and should be in a minor league game within two days.
"We've got to be perfectly comfortable with the fact that he's going to go out there," Collins said about Byrdak being ready for Opening Day versus activated for Game 5. "We're not going to set this guy back. This weekend -- I know he's going to pitch in some minor league games this weekend -- we'll see how he's doing."
Catchers Rob Johnson and Lucas May, left-hander Garrett Olson, infielder Jordany Valdespin and outfielders Adam Loewen and Matt den Dekker have been sent to minor league camp.
Herrera and Josh Edgin remain in camp, but Edgin is expected to open the season at Triple-A Buffalo. Right-hander Chris Schwinden also is in camp, but should open the season in Buffalo's rotation with Matt Harvey, Jeurys Familia, Jeremy Hefner and Olson.
Collins expects Andres Torres (strained left calf) will be ready for Opening Day. He ran the bases and hit Thursday. The manager believes Torres will be in a minor league game -- batting only -- on Friday. He could be in a Grapefruit League game Saturday.
If Torres weren't ready, the Mets are prepared to carry Vinny Rottino as a righty-hitting backup, an organization source said. Rottino, as a part-time third catcher, would allow the Mets to pinch-hit for Nickeas when required and add speed to the bench.
The Mets should need to clear 40-man roster spots for Baxter and Miguel Batista, plus Herrera if Byrdak is not ready, and Rottino if Torres is not ready -- so anywhere from two to four spots. Sandy Alderson confirmed there is not a 60-day DL candidate in Mets camp. Players placed on the 60-day DL do not count against the 40-man roster.
So the position players look like this:
C: Josh Thole
1B: Ike Davis
2B: Daniel Murphy
3B: David Wright
SS: Ruben Tejada
LF: Jason Bay
CF: Andres Torres*
RF: Lucas Duda
Bench: Mike Nickeas, Ronny Cedeno, Justin Turner, Scott Hairston, Mike Baxter
* If Torres were to start on DL, Hairston starts in CF and Rottino makes team
Pitchers:
Johan Santana
R.A. Dickey
Jon Niese
Mike Pelfrey
Dillon Gee
Frank Francisco
Jon Rauch
Ramon Ramirez
Manny Acosta
Bobby Parnell
Miguel Batista
Daniel Herrera*
* Herrera is the lefty sub if Byrdak is not ready and misses the first four games of the season on the DL, where he presumably would join Pedro Beato and D.J. Carrasco.
On Nickeas, Collins said: "We have all the confidence in the world he's going to do a great job. A lot of it had to do with the job he did last year when he was here. I don't know what the record was, but when he caught games, we played very good. So we're very confident he'll do a good job."
As for Baxter seemingly beating out Loewen, Collins said: "Barring anybody else [external], Mike Baxter is a left-handed hitter off the bench for us. One of things he brought in this camp, I thought he's handled himself very good no matter where we've played him defensively. He's done a good job. And I think his swing is short. For a guy to come off the bench, he's going to put the ball in play. Anytime you do that, you're dangerous."