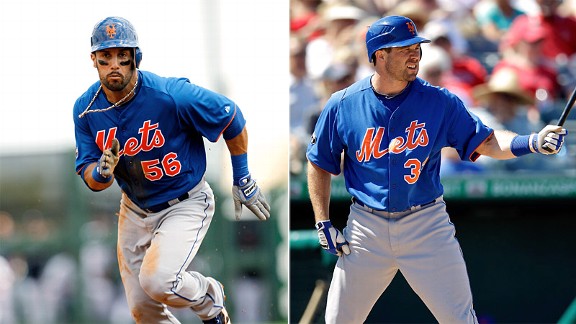 Associated Press
Andres Torres did not feel sharp during a minor league game Friday. Vinny Rottino's fate is tied to Torres being ready for Opening Day.
Andres Torres did not feel sharp while getting five at-bats in a minor league game Friday in Port St. Lucie. So rather than play in Saturday's Grapefruit League game, the Mets will keep Torres on the minor league side of the complex.
That preserves the right to backdate Torres' DL stint into spring training if necessary, allowing him to miss as few as four regular-season games. Once Torres appears in a Grapefruit League game, any 15-day DL trip cannot be backdated to an earlier point than that.
Torres' Friday minor league action marked his first game since straining his left calf March 20.
If Torres is not ready for Opening Day, righty-hitting utility player Vinny Rottino instead would make the roster.
"He said he feels awkward in the batter's box. So he's going to have to play again tomorrow over there," Terry Collins said about Torres remaining in minor league games. "We can't play him in a game here until we know we're not going to have to disable him. We may have to do that. He can't play for us until we know he's ready."
Awkward?
"Well, when you don't play for 10 days, two weeks, you can get like that," Collins said. "He's hit in a cage and he's hit off that machine. He's tracked. He's done all the pre-stuff. Now he's just got to get in there and start to see live pitching and pick up rotation and other things that big league hitters do."
The Mets entered Friday with growing optimism Torres would be ready for the season opener, Thursday against the Atlanta Braves at Citi Field. Now?
"That's a decision we'll have to make next week," Collins said. "What stage do we think he's at? Are we better off getting him up there, getting him at-bats and getting him back in shape with us, because he's still a big part of the club? Or do we leave him down and play somebody else in center?"
Scott Hairston would start in center field minus Torres. Otherwise, Hairston would be the righty bat for the bench.
Rottino went 2-for-4 with an RBI in Friday's 4-3 loss to the St. Louis Cardinals, which lifted his Grapefruit League average to .308. He started in left field, then moved to third base and finally behind the plate. Rottino has made sure to catch one bullpen session a day behind the plate to stay sharp catching.
"Pretty similar to what you saw today," Collins said about Rottino's role should he make the club, with Torres on the DL. "He can play first. He can play the corners. He can play center. The only positions he probably wouldn't play would be the middle of the infield. He gives us a third catcher, that right-handed bat. He's had some great at-bats in the last two weeks -- probably as good at-bats as we've had on the club. So he's been very impressive to watch lately."
Collins said Rottino, who turns 32 next week, also would give the Mets speed on the bench. That would not have been true earlier in Rottino's career, when the Milwaukee Brewers viewed him primarily as a catcher and he was stockier as a result.
"Maybe in my older age, I started to become faster somehow," Rottino quipped. "But I definitely feel like I'm running better than I ever have in my career."