The austerity-fueled Mets now are focused on the farm system as their primary vehicle to supply the major league team. And while it will take a few years for the Sandy Alderson/Paul DePodesta emphasis to kick in, several prospects from the former regime may have an impact at Citi Field in 2012.
Here's a look at 13 farmhands who will start in the minors but may appear in a Mets uniform this season.
Starting pitchers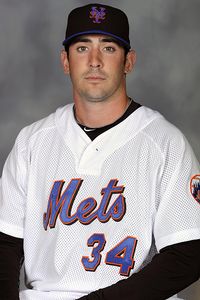 Courtesy of New York Mets
Matt Harvey
MATT HARVEY, rhp
13-5, 3.32 ERA at St. Lucie/Binghamton
Ticketed for: Buffalo
Background: Part of the next wave of pitching prospects, along with fellow right-handers Zack Wheeler and Jeurys Familia, Harvey is a 2010 first-round pick out of the University of North Carolina. He posted only a 4.53 ERA in 12 starts after a midseason promotion to Double-A. Eastern League batters were able to square up his four-seam fastball up in the zone, so Harvey worked this offseason to hone the sinker that he threw as a Tar Heel. Aside from a woeful Grapefruit League appearance, when he allowed an estimated 492-foot homer to Jayson Werth, Harvey continued to impress in spring training. Team officials maintain they won't hesitate to insert him into the Mets rotation this season if he's the best starter available at Triple-A when the need arises.
Scouts view: "He's got a lot of potential. Scouts like him, myself included. He just needs to go pitch. He needs to go get more experience, to refine his command, especially his fastball command. He's right where he needs to be."
JEURYS FAMILIA, rhp
5-5, 2.90 ERA at St. Lucie/Binghamton
Ticketed for: Buffalo
Background: Familia, 22, ranked fifth among Mets farmhands with 132 strikeouts last season. After posting a 1.49 ERA in six starts with Class A St. Lucie last season, during which he held opponents to 21 hits, eight walks and one homer in 36 1/3 innings, Familia joined Double-A Binghamton for the remainder of the season. "He's got an electric fastball -- 95, to 97 mph at times," minor league pitching coach Marc Valdes said. "And his changeup and curveball have come a long way the last couple of years as far as development." Said catcher Kai Gronauer, who caught Familia at multiple levels of the minors: "A lot of guys throw 96 mph. I think what makes him hard to hit is his deception when he throws the ball. It's hard to find a rhythm off of him. You see it very late. It has some kind of run where it's very heavy. It's hard to time it out of his hand." Some scouts see Famila as a major league reliever.
Scouts view: "I like Familia as a reliever. He's got good stuff. I think it will play better coming out of the bullpen than it will every five days as a starter, just because I think he's got two real pitches, and my experience watching him is the second and third time through the lineup, he's not as effective."
CHRIS SCHWINDEN, rhp
0-2, 4.71 ERA with Mets/8-8, 3.87 ERA at Binghamton/Buffalo
Ticketed for: Buffalo
Background: Schwinden made his major league debut last Sept. 8 against the Atlanta Braves, allowing five runs in five innings. He ultimately made four major league starts during the final month of the season, going 0-2 with a 4.71 ERA while allowing 23 hits and six walks and striking out 17 in 21 innings. Schwinden is slated to start this season in Triple-A Buffalo's rotation, along with Harvey, Familia, Garrett Olson and Jeremy Hefner. Schwinden actually opened last season in Binghamton's bullpen, and even surprised himself by quickly landing a starting assignment in Triple-A and succeeding.
Scout's view: "I have not seen him this spring. I've just got to go off of what I saw last year. I like Dillon Gee more. I think Gee's got better movement down in the zone. I think Schwinden pitches too much up in the zone. I think that's going to get him in trouble."
COLLIN McHUGH, rhp
9-4, 3.84 ERA at St. Lucie/Binghamton
Ticketed for: Binghamton
Background: The longest shot on this list to reach the majors this season, McHugh has worked as a starting pitcher in the minors, but probably would work out of a major league bullpen. Last season, B-Mets manager Wally Backman said McHugh had the best control of any of his pitchers. After opening the season at Class A St. Lucie, McHugh was promoted to Binghamton and went 8-2 with a 2.89 ERA in 18 Double-A appearances (16 starts).
Scout's view: "I just think the stuff is too 'light.' But I like him as a nice Triple-A pitcher. He might get a chance to pitch in the big leagues. I don't think it's going to go over too well."
Relievers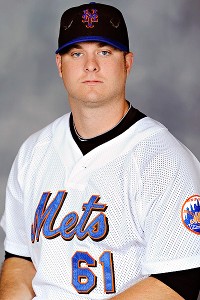 Courtesy of New York Mets
Josh Edgin
JOSH EDGIN, lhp
3-1, 1.50 ERA at Savannah/St. Lucie
Ticketed for: Binghamton
Background: Edgin did not come out of nowhere, but he is the closest to that on this list. After a strong year in Class A in 2011 between Savannah and St. Lucie, Edgin arrived at the Mets' spring-training facility and reported directly to minor league camp. Once Tim Byrdak required March 13 surgery to repair torn meniscus cartilage in his left knee, the Mets officially summoned Edgin to major league camp. He continued to open eyes, allowing only three hits and three walks while not surrendering a run in 8 2/3 innings in Grapefruit League play.
Scout's view: "He's more of like a fullback body type. He's bigger than Billy Wagner. A pleasant surprise. A nice find for the Mets. He needs to go to Double-A or Triple-A and pitch. I mean, he's got good movement on his fastball, and he's got a decent slider. I'd just tell him, 'Get more experience against better hitters.' I think he'll be in the big leagues sometime this year."
JENRRY MEJIA, rhp
1-2, 2.86 ERA at Buffalo
Ticketed for: Rehab
Background: Mejia underwent Tommy John surgery on May 16, 2011 and has progressed well. He is throwing off a mound, but the Mets are not rushing him. He is expected to be in games in May, near the one-year anniversary of the procedure. Mets officials expect Mejia will contribute in the major league bullpen later this season, while not foreclosing starting again at some point in his future. Mejia made the 2010 Opening Day roster as a reliever, as Jerry Manuel and Omar Minaya looked to take the best squad north to preserve their jobs. Mejia went 0-4 with a 4.62 ERA in 33 appearances (three starts) at the major league level that season. Mejia, whose primary asset is the natural cutting action on his fastball, worked as a starting pitcher pre-injury.
Scout's view: "Absolute reliever. I never doubted that. I've never bought into him being a starter. The delivery is too violent. There's too much going on. You need to keep him in the pen."
ROBERT CARSON, lhp
4-11, 5.05 ERA at Binghamton
Ticketed for: Binghamton
Background: All but five of Carson's regular-season pitching appearances since being drafted in the 14th round in 2007 have come as a starter. But Carson now is poised to work as a left-handed reliever, the role he would have in the majors. Carson, though, has been passed by Edgin as the most viable young lefty relief option in the upper levels of the system. Carson went 4-11 with a 5.05 ERA in 25 appearances (24 starts) last season with Double-A Binghamton. He then went to the Arizona Fall League for a second straight year.
Scout's view: "His stuff has gone backward the last two years. His velocity has gone down. His command has gotten worse."
Infielders
JORDANY VALDESPIN, 2b/ss/cf
.294, 17 HR, 60 RBI at Binghamton/Buffalo
Ticketed for: Buffalo
Background: Former GM Minaya often talked up the 24-year-old Valdespin, who hit .297 with 15 homers, 51 RBIs and 33 steals in 47 attempts at Binghamton before completing the season with 27 games at Buffalo. Valdespin has been a middle infielder during his minor league career, but Sandy Alderson said he also will get exposure to center field this season, as he did late in Grapefruit League play. Terry Collins noted early in camp that Valdespin in the past has had maturity issues in dealing with teammates and staff, but players can outgrow that.
Scout's view: "I have him as a utility player. I still think the head movement is a problem now; I don't see it moving as much forward, but I see it moving a lot in, toward the plate. And I think he's going to have a lot of problems as pitchers exploit him on the inner-third of the plate. I really see that as a big problem."
ZACH LUTZ, 3b/1b
.285, 11 HR, 32 RBI at Buffalo/St. Lucie
Ticketed for: Buffalo
Background: Lutz had been tormented by foot injuries early in his pro career. More recently, his injuries have been caused by bad luck. Lutz twice suffered concussions last season after being hit with pitches. Otherwise, he likely would have been a September call-up. Also last year, while on the DL for a hamstring injury, Lutz was struck with a foul ball while in the dugout and broke a finger on his non-throwing hand. Lutz, 25, hit .295 with 11 homers in 220 at-bats at Buffalo in 2011. Not a gifted defensive player, he primarily is a third baseman, but will continue to see action at first base as well.
Scout's view: "For me, he's got to prove first he can stay on the field. It's too much of an issue."
REESE HAVENS, 2b
.288, 6 HR, 28 RBI at Binghamton/St. Lucie
Ticketed for: Rehab
Background: Taken out of the University of South Carolina in the same first round as Ike Davis in 2008, when the Mets had two picks, Havens since has been tormented by injuries. He since has played in only 213 regular-season games. Havens underwent Dec. 17, 2010 surgery to remove an inch of a rib that was thought to cause discomfort, but still has been slowed. Havens was idle in major league camp because of back discomfort, and will not break camp with Binghamton because the trouble on the left side of his back continued in minor league camp. Havens can be an offensive force when healthy, but he's not been on the field enough.
Scout's view: "Whenever I've seen him play, he's always played well. It's unfortunate."
Outfielders
KIRK NIEUWENHUIS, cf
.298, 6 HR, 14 RBI at Buffalo
Ticketed for: Buffalo
Background: A Division I football recruit by programs such as Colorado, Colorado State and Air Force, Nieuwenhuis instead opted to focus on baseball at Azusa Pacific University. He was selected in the third round in 2008 by the Mets, and has taken that football mentality to the baseball field -- sometimes to his detriment. Unafraid to crash into walls, Nieuwenhuis has suffered his share of injuries because of his aggressiveness. He underwent surgery on his left, non-throwing shoulder last July 11, after hitting .298 with six homers in 53 games with Buffalo during the first half. Large for center field at 6-foot-3, 215-pounds, many scouts still believe Nieuwenhuis moves well enough to man that position.
Scout's view: "I think he can play center. My concern about him is his ability to stay on the field. He's been hurt a lot the last three years, and I have questions about his durability. I see him more as a platoon guy."
MATT DEN DEKKER, cf
.265, 17 HR, 68 RBI at St. Lucie/Binghamton
Ticketed for: Binghamton
Background: A gifted defensive center fielder who can cover ground, den Dekker twice has appeared on ESPN's top 10 plays of the day for diving catches -- once while competing with the University of Florida in the College World Series, then while being borrowed from minor league camp for a 2011 Grapefruit League game. Den Dekker, a fifth-round pick in 2010, struck out a combined 156 times last season between St. Lucie and Binghamton, and needs to work on his pitch-recognition skills. He actually was an outside consideration for the Opening Day roster when Andres Torres, Scott Hairston and Nieuwenhuis all were banged up. For now, he'll be a level behind Nieuwenhuis. Den Dekker primarily will continue to play center field, but he also will get some action with the B-Mets in left field.
Scout's view: "He needs to be much more aggressive at the plate. He's very passive. He takes too many pitches. When he swings, he doesn't let it go. He needs to be much more aggressive with the bat. If he does, and he just puts more balls in play, he can be an everyday big leaguer with his defense, which is great."
JUAN LAGARES, of
.349, 9 HR, 71 RBI at St. Lucie/Binghamton
Ticketed for: Binghamton
Background: Lagares, 23, hit a combined .349 with nine homers, 71 RBIs and 15 steals between Class A St. Lucie and Double-A Binghamton. He will mostly play left field with the B-Mets this season, but also will swap roles with den Dekker and play some center field as well. "He's a … kid who can play all three outfield positions," said Wally Backman, who managed Lagares with the B-Mets last season. "He's got speed. He's a good outfielder. He throws to the right bases. And he can swing the bat a little bit."
Scout's view: "I like Lagares. When I look at him play, I think of Manny Ramirez. I think they need to do what's best for this kid and let him play in a place where he can have success, and that's probably going to be in Double-A."