Infielder Bobby Scales has signed with the Mets and will report to Triple-A Buffalo.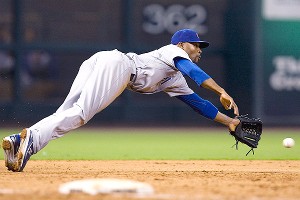 George Bridges/MCT/Getty Images
Bobby Scales has signed a minor league deal with the Mets.
Scales, 34, split last season between Triple-A Iowa in the Cubs organization and Japan. He hit .304 with nine homers and 43 RBIs in 230 at-bats in the Pacific Coast League in the U.S. With Nippon Ham, he hit .261 with nine homers and 30 RBIs in 287 at-bats.
He has manned every position but pitcher in the minors over 13 seasons, although most frequently second base (567 games), followed by left field (198 games) and third base (189 games).
Scales appeared in 61 major league games with the Cubs between 2009 and '10, hitting .248 with three homers and 17 RBIs in 137 at-bats.