Bobby Parnell arrived at spring training with no lock on a bullpen spot, since he had a minor league option remaining. He finished his exhibition workload by tossing three scoreless innings at ESPN Wide World of Sports as the Mets beat the Braves, 8-2, Monday. And Parnell easily was the top reliever in camp.
Parnell, who is unlikely to appear in either of the Mets' final two exhibition games after tossing 39 pitches against Atlanta, finished Grapefruit League play having tossed 12 1/3 scoreless innings. He allowed only seven hits and two walks while striking out 10.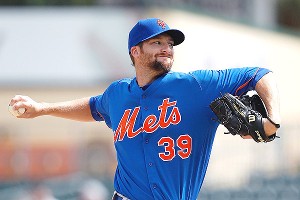 Sarah Glenn/Getty Images
Bobby Parnell tossed 12 1/3 scoreless Grapefruit League innings.
Ruben Tejada had a three-run homer off Brandon Beachy and Mets minor leaguers scored four ninth-inning runs in the victory. Prospect Wilfredo Tovar went 3-for-4 with a double and scored three times while starting at second base.
Parnell started because the Mets did not want Jon Niese facing the same opponent he is lined up to face Sunday, in Game 3 of the regular season. Mike Pelfrey and Niese instead both will work Tuesday against the Yankees in Port St. Lucie.
Parnell has not started a regular-season game since late in the 2009 season, during an ill-fated eight-start audition for a rotation spot for the following season.
Terry Collins and Dan Warthen wanted to get Parnell's pitch count up to about 40 on Monday so that he would be ready to pitch in multiple-inning spurts if required during the regular season. Parnell was so efficient with his pitches, he ended up logging three innings.
"It was different," Parnell said about starting. "It was a little changeup in the routine. It turned out good, and it was enjoyable."
Said Collins: "He's been very impressive. I think he came in to show everybody he's a good pitcher. We asked him to do a lot of things last year. At the end, obviously with his stuff, we think he's got a future as a closer, so we put him in that role to get a taste of it. At times he had a tough time. At other times he pitched very, very well. He's come into this spring training and has been throwing the ball great."
Rather than try to register 100 mph on a radar gun with his four-seam fastball, Parnell has concentrated this spring training on throwing two-seam fastballs (sinkers), while mixing in the knuckle curve that Jason Isringhausen taught him late last season. That tutelage occurred as Parnell succeeded Izzy in the closer's role after the veteran's 300th save.
"He showed it to me at the end of the year last year," Parnell said. "I think that with my two-seamer, the combination is pretty good -- the speed difference, obviously, and I'm able to throw it for strikes. If I can do that, then it gets them off the two-seamer."
With Frank Francisco's left knee barking, it is conceivable Parnell could revisit the closer's role at some point soon, since the rest of the bullpen hasn't exactly distinguished itself this spring. It is just as conceivable that with Johan Santana on tight pitch counts, Parnell could be working multiple innings after the southpaw departs, perhaps instead of long-reliever Miguel Batista if the game is on the line.
"It depends what the situation in the game is," Collins said about who might shadow Santana. "That's a tough one to answer."
Parnell's spring-training velocity has been mid-90s at best, rather than triple figures, yet less has been more for the right-hander.
"I've thrown a lot more two-seamers this year, so my velocity has probably been down a little bit," Parnell said. "I've been working on throwing the ball down in the zone, so I haven't been really worrying about velocity. I feel like I'm getting stronger, and I could let it go, but I haven't."
Asked if he got a raw deal with only the brief audition for starting back in 2009, Parnell said: "I don't even think about it. I know my role is in the bullpen right now. I focus on that and try not to cloud my head up with wondering and stuff like that."
If someone clouded his head, would he confess to still coveting starting?
"No, I like bullpen right now," Parnell said. "For me, going out there and throwing every other day, and getting out there and performing every other day, I think it is more beneficial to me right now. I enjoy it. I wouldn't change it right now."
As for his scoreless Grapefruit League, assuming he is not appearing in the final two spring-training games, Parnell said: "If it's over, I'm pleased with it. I feel like I made a lot of improvements this year."
• 1969 Miracle Mets manager Gil Hodges tragically died 40 years ago today after suffering a heart attack, two days before his 48th birthday. His No. 14 was retired by the Mets in 1973.