The Mets unveiled new added seating above the new left-field wall at Citi Field on Tuesday. The new seats, available for groups, will be part of an area called the Party City Deck.
"Bring your gloves. There's going to be a lot of baseballs here," said Dave Howard, Mets executive vice president of business operations.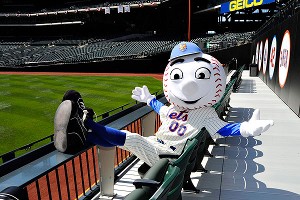 Courtesy of New York Mets
Mr. Met shows off the new seating area.The area is situated in front of the old seats in left field and above the new eight-foot wall. The deck accommodates groups of 25 to 102 with padded seats in the front row and barstools in the second row. Tickets range from $100 to $200.
Individual tickets will be available for the final five games of the Mets' opening homestand from April 7 to April 11. The Party City Deck will also be available during batting practices. Howard declined to say how much the project cost but said, "We did it in a very cost-effective and efficient manner.
"We thought it would be a great opportunity to put seating here once the baseball operations side determined the extent to which they wanted to put the walls in and the fact that we were lowering to eight feet, we thought this would be a perfect opportunity to put seating here."
The Mets announced back in October that they would move in portions of the left-field wall as much as 12 feet. The wall was generally considered unfair to hitters. Players like David Wright and Jason Bay suffered significant drop-offs in home-run production since the Mets moved into Citi Field in 2009. Wright, for example, has averaged 18 homers per season since the move. He averaged 29 per season from 2005 to 2008 at the old Shea Stadium.
"Certainly, we know that David Wright and Ike Davis, Jason Bay and Lucas Duda and the rest of our position players are excited about it," said Howard. "We think our fans are excited about it and we're looking forward to how the field plays starting Thursday."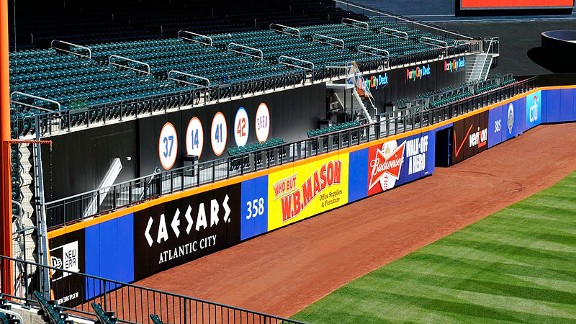 Courtesy of New York Mets
The Mets unveiled a new party area between the old and new left-field walls that will be open to groups this season.