Arguably the biggest Mets killer of all time, Chipper Jones, has some advice for the team he has tortured for years: Fellow third baseman David Wright should be to the Mets' organization what the retiring Jones has been to the Braves.
Jones thinks Wright -- who is under the Mets' control through 2013, including a team option year -- should be the marquee Met until he one day also calls it quits.
"I would think so, unless they are really talking about trimming payroll," Jones said as the Atlanta Braves opened their season against the Mets at Citi Field. "I think David Wright is a shining star and if you are on the world's biggest stage, you have to keep your shining star."
Jones, 39, has hit 48 homes and driven in 154 runs in 231 games in his career against the Mets. He even named his son, Shea, after the Mets' old Stadium.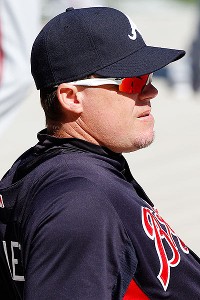 William Perlman/Star-Ledger/US Presswire
Mets fans jeered Chipper Jones during pregame introductions.
Since Citi Field opened in 2009, Jones has been a proponent of moving in the fences and lowering the walls, which the Mets finally did this year.
"I can hear David, Jason [Bay] and Ike [Davis] all smiling from here," Jones said. "It is still a fair ballpark. You are going to see some numbers skyrocket."
Jones is currently on the Braves' disabled list after having surgery on his knee. He is expected to go on a rehab assignment soon and be ready shortly after. Still, he didn't want to miss what was the first opener for him in New York.
"I'm sure I'll get booed," Jones said laughing. "I wouldn't have it any other way. It is what it is. I'm probably, next to John Rocker, the biggest villain in New York."
Mets fans unloaded Jones the loudest boos during pregame introductions.
Wright, 29, received loud cheers when he was introduced.
"David Wright is a cornerstone," Jones said. "You build teams around guys like him. Certainly, when I think of the Mets, I think of David Wright. You know when you are playing the Mets, you have to get David Wright out. I think he exemplifies what this town and what this organization is all about."
Jones has loved being a career Brave, but he admits he has wondered what it would be like to call Flushing or the Bronx home.
"Oh, yeah," Jones said. "You enjoy playing on this stage. You can come up here and weather the fans and, in the past, the teams that excel and do well, you get instant credibility. I've always enjoyed interacting with the fans -- some nice, some not so nice. That's the way it is."
Jones knows this year will be special for him. He is not expecting any grand tour, but he sounds like a man who is going to enjoy his final year.
"In Atlanta, it is a little bit of a big deal," Jones said with a shrug. "I've never considered myself in the Cal Ripken or Tony Gwynn range. It is what it is. If someone is nice enough to say goodbye to me my last time in a city, then I'm certainly much-appreciated. I just want to be another one of the guys that goes out there and play and hopefully rides out into the sunset on a positive note. That is all I'm really focused on."
Now, Jones thinks Wright should join the select few who stay with one organization their entire career.