In the sixth, what would have been a lazy fly ball a year ago was nearly a home run for Jason Bay.
"It actually went a little farther than I thought it would," Bay said after the Mets' 1-0 win over the Braves. "I hit it well, but I caught it way out in front. If the wind would have caught it a little bit more than I would have had a chance."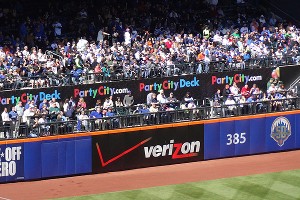 Adam Rubin
The walls in left field have been moved in, making Citi Field more hitter friendly, and creating a party section between the old and new walls.
In his two years as a Met, Bay has had little chance so the new Cit Field dimensions could -- could -- make Bay a little more valuable.The sixth-inning flyout resulted in an out, but it showed how Bay might be able to up his home run total to a more respectable number than last year's 12.
The eight-foot blue wall in front of the cool Party City Deck is 358-feet from home plate compared to the old black 16-foot wall that was 371-feet deep.
"It doesn't change my approach," Bay said. "It doesn't change anything I'm trying to do. At the end of the year, if you have five or six fly balls that were doubles or outs before [now are home runs]. At the end of the year, it puts your numbers at a different spot. There are more hits and there is more confidence. It is a little bit of a trickle down effect."
David Wright played down the impact on his mindset, but when it was pointed out to him that Chipper Jones thought it would help, Wright relented a little.
"It is not going to hurt us," Wright said. "You are asking a hitter if you like the fact that they brought the wall in. The obvious answer is yes."