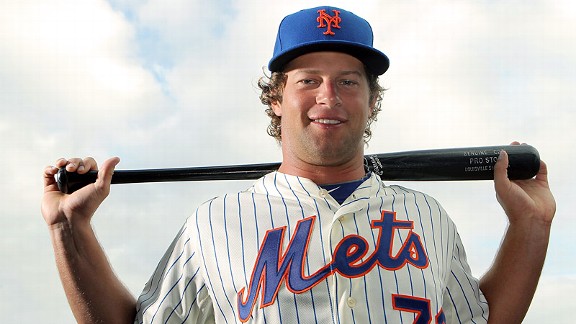 Marc Serotta/Getty Images
Kirk Nieuwenhuis is making his major league debut Saturday against the Atlanta Braves.
Kirk Nieuwenhuis will make his major league debut Saturday against Atlanta.
"It feels great to be here," said Nieuwenhuis, who will bat eighth and play center field. "I feel blessed."
Nieuwenhuis, 24, was promoted from Triple-A Buffalo because Opening Day center fielder Andres Torres re-strained his left calf in Thursday's 1-0 victory and was placed on the 15-day disabled list.
Manager Terry Collins says he plans to have a platoon in center between Nieuwenhuis and Scott Hairston. Hairston will face lefties -- he will start on Sunday against Mike Minor and next weekend versus Cliff Lee and Cole Hamels -- while Nieuwenhuis will get the majority of his at-bats against righties. The Mets also are due to face Nationals southpaw Ross Detwiler on Tuesday.
Nieuwenhuis, who stands 6-foot-3 and weighs 215 pounds, was limited to 53 games at Triple-A Buffalo last season due to a torn labrum in his left, non-throwing shoulder. He batted .298 with six home runs and 14 RBIs.
Nieuwenhuis was hopeful he'd be able to showcase himself in spring training and put himself in a position to make the Opening Day roster, but an oblique injury ended that chance.
"I've felt 100 percent for about a week now," he said.
The team's third-round pick in the 2008 draft, Nieuwenhuis went 0-for-2 with two walks and a stolen base for the Bisons on Thursday night at Pawtucket.
"[Buffalo manager] Wally Backman called me into the office after our first game in Pawtucket [to give me the news]," Nieuwenhuis said.
Nieuwenhuis traveled to New York on Friday morning.
According to ESPN Stats & Information's Mark Simon, Nieuwenheis will become the seventh player in team history to make his MLB debut as a starting center fielder, and the first since Alex Escobar in 2002.
"I'm just gonna go out there like I'm in my back yard, like I used to do when I was little," Nieuwenhuis said.