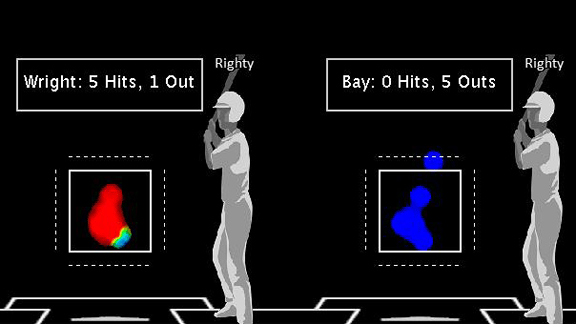 David Wright and Jason Bay's hits/outs in 2012 vs. middle-third pitches.
Gee Matchups to Watch
Dillon Gee is 3-0 with a 3.09 ERA in five career starts against the Nationals. The biggest key in those wins has been holding the Nationals' left-handed hitters to only seven hits in 49 at-bats, including 1-for-20 in two-strike counts.
Gee has favorable numbers against a couple of notable Nationals, with the best being against second baseman Danny Espinosa (1-for-11 vs. Gee). But Espinosa has reached in four of his last five plate appearances against Gee thanks to walks and a hit-by-pitch.
Detwiler Matchups to Watch
Ross Detwiler is 1-9 with a 4.31 ERA in 19 career road appearances, including 13 starts.
Detwiler is unusual in that his changeup stays up against right-handed hitters more than most changeups from lefties. But the pitch works for him. He throws it for strikes at a 67 percent clip. It netted him 32 outs and allowed just eight hits last season.
But he has had his issues with David Wright, who is 4-for-8 with four RBIs against him, with the hits including a three-run home run and a pair of doubles. Two of the outs against Detwiler came against the changeup.
Wright has a hit, three walks and a sacrifice fly against left-handed pitchers this season.
Tejada the Table Setter
Newly anointed leadoff hitter Ruben Tejada has had a very smart approach at the plate in the first four games of the season.
In 18 plate appearances, Tejada has seen 73 pitches, an average of better than four per turn. Tejada has swung at 28 pitches and only missed one.
Bay Watch
The thing that has to be concerning Terry Collins is not necessarily that Jason Bay is 2-for-12, but that he's missing pitches in areas where hitters historically thrive.
We put heat maps of Wright's and Bay's hits and outs against pitches over the middle-third of the plate side by side at the top of this article. The red blotches represent hits. The blue represent outs.
In 2010, Bay hit .319 against those pitches. That dropped to .244 last season. So far in 2012, he's 0-for-5.
The Frank Francisco Treat
The Mets were able to give Frank Francisco a day off on Monday, meaning he should be good to go if needed on Tuesday night.
4-0 Starts since 2004
Francisco has picked up where he left off last season in regard to success against left-handed hitters. They hit .369 against him prior to the 2011 All-Star break, but just .200 the rest of the season.
This season, Francisco has retired nine of the 11 lefties he has faced.
What does a 4-0 start mean?
The chart on the right shows a list of teams that have started 4-0 or better since 2004. The nine teams ended up averaging 83.7 wins per season, with five finishing above .500.
Three –- the 2006 Tigers, 2010 Giants and 2011 Rangers –- made the World Series.