Free ticket for the Easter Sunday game, no real strings attached.
A $2.50 ticket for Wednesday's Johan Santana-Stephen Strasburg matinee.
And then, when that allotment sold out, a $2.50 ticket for Tuesday night's Mets-Nats game became available, too.
So, an alert fan could have attended three of the Mets' final four games of the opening homestand for a grand total of five bucks.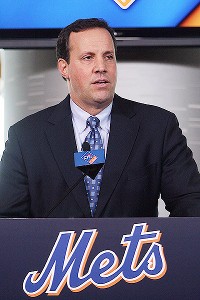 Rick Maiman/Bloomberg News/Getty Images
Mets executive VP Dave Howard
Smart marketing? A little dangerous in terms of upsetting fans who paid full price to get into the stadium, as well as season-ticket holders? A little desperate on the part of the Mets?
Maybe all three.
"The Mets threw the pricing strategies of most sport organizations out the window," said Dr. Larry McCarthy of the Center for Sport Management at Seton Hall University. "Most sport organizations would be of the opinion that you should never give away free tickets. One thinks back to Bill Veeck, who always said that even his mother paid to get into the ballpark -- the rationale being that free tickets diminish the perception of the quality of the product, and people will be unwilling to pay in the future for something they get for free.
"However, the risk that the Mets took may pay off. People got to see three wins over the weekend, an excellent pitching performance, so they may be more inclined to purchase a ticket to go and see another game. One shudders, however, to think about the consequence if they had been hammered and the performances were awful."
Dave Howard, Mets executive vice president for business operations, said about 1,600 people took advantage of the Sunday free offer and about 3,000 people took advantage of the $2.50 offer for Wednesday before those allotments sold out. The Mets announced midday Tuesday that tonight's offer also had reached its limit.
"Sunday was a challenge because of the holiday, and we just wanted to make an offer available. It also was geared with experimenting in the social-media space," Howard said. "It was a Twitter-based promotion. We called it a 'Twicket.' It was one of those things where we had the inventory because of the holiday. We gave it a shot, and it was very successful. We want to do more things in the social-media space to engage our fans, especially our younger fans. Obviously they are very active in that space. We'll be doing more things like that. They won't be necessarily free tickets, but other offers and promotional opportunities.
"Wednesday, it turned out to be less of a challenge because of the pitching matchup. But it is our birthday. It is the 50th anniversary of our first game, in the Polo Grounds. So we had been planning on doing a little promotion with WPIX. We announced it, and virtually within hours, we already had gone through the allocation. So we didn't have to disappoint too many of our fans, we decided to open up a few of the similar sections where there are no season-ticket holders for the Tuesday game beyond the allocation that we already had set aside for the Wednesday game."
Even if the sections offered are not season-ticket-holder sections, is there leeriness about undercutting loyal, paying customers by letting others enter Citi Field for free, or virtually free?
"It's a balance," Howard acknowledged. "We're trying to strike an appropriate balance to have people come out and experience Mets baseball in 2012, to realize what a great facility we have, realize what a great experience it is, and the fact that the team is going to be a fun team to watch. We're not going to overdo it. But, by the same token, especially early in April, we want to get people excited and have them come out and sample the product, because we think the product will be very compelling for them. We think it is a good marketing exercise to stimulate interest early on."
Howard said creating the optic for TV audiences of a full Citi Field was not a compelling motivation for trying to pack the stadium early with freebies and severely discounted tickets.
Asked if seeing an empty stadium early would cement in TV viewers' minds that people were not attending Mets games, and therefore make it more likely for the TV viewers not to attend a future game themselves, Howard said: "I don't think the views on television are all that relevant. I think the most important things will be how people perceive the team and how the team performs, than how things look on television in April. Midweek games in April, they're some of the bigger challenges in terms of getting people into the building."
The Mets also introduced dynamic ticket pricing this season -- meaning ticket prices fluctuate up and down based on market demand, with the floor on ticket prices set at what the season-ticket holder paid for a comparable seat.
CITI DWELLING
A look at Mets attendance through the first four games of the season:
When demand is high, that allows the Mets to raise prices and maximize revenue. When the demand is low, the Mets can adjust prices somewhat downward to entice interested attendees to still buy from the team, as opposed to picking up tickets dumped on the secondary market at low prices and bypassing the box office.
Howard said dynamic pricing actually meant bigger revenue for the Mets on Opening Day.
"The secondary market was selling well above face [value]," Howard said about Thursday's opener, which the Mets announced as the largest crowd in Citi Field history. "We were using dynamic pricing to move those prices up, so that in addition to selling more tickets than we had previously, we also had substantially more revenue than we had last year for the same date. Dynamic pricing showed its value there.
"We did commit that in season-ticket holder areas, we would not price below the season-ticket holder discounted price. But we have other sections that don't have season-ticket holders.
"Price is not the issue," Howard continued. "Even after the $2.50 rollback promotion [ended], you could still get a ticket for $12. There are still a lot of great values in terms of ticket pricing, in terms of value added, whether it's "T-shirt Tuesday," or whether it's the "Power Pack," which for $22 you get a ticket plus, basically, a meal. We've got affordable opportunities for people. So dynamic pricing on the downside, on the lower end of the price range, you're moving it $1 or $2. They're still very, very affordable. We have $10 "Student Rush" tickets for high school or college students with IDs. On the day of the game, you can walk up and buy tickets for $10. There's plenty of affordable options."
Still, Larry DeGaris, the director of the academic sports marketing program at the University of Indianapolis, sees some desperation in so aggressively discounting tickets.
"Seems a little desperate, doesn't it?" DeGaris said. "Charitably, I guess you can say it's ambitious. But it does come across as a sign of surrender, like, 'Hey, we're not expecting much from the season.' That's one of the big problems with price discounts on tickets. I've seen it for tons of games, where you want to pack the house for a playoff game because you want a full crowd, but you literally can't give the seats away. All you're doing then is eroding the pricing power for the people who are paying for tickets.
"There's a lot of downward pressure on pricing, because I think over the past 20 years the influx of corporate money into sports has really created a sports bubble that's really just now slowly deflating. You have franchises all over the country who are getting rid of premium seating and moving to dynamic pricing and taking another look at the pricing tiers, which for the Mets are very steep."
On the positive side for the Mets, DeGaris added: "It's product sampling. 'Recency' is a big predictor of future behaviors. The more recently you went to a game, the more likely you are to go to another one. That's typical with purchases in a lot of categories, but certainly true in sports. You want them to come out and have a good time. So it is an attempt to kick-start the season and get people in early so that you can build some momentum as far as attendance goes for the season."